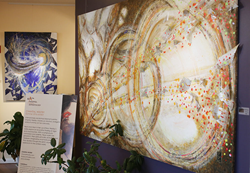 Haverford, PA (PRWEB) May 10, 2016
In support of local artists, Ringpfeil Advanced Dermatology hosts semiannual exhibits of outstanding local artists. The exhibits give artists an opportunity to share his/her work and at the same time help the practice to create a whole new and uplifting patient experience.
The exhibit opening reception will take place on Friday, June 10 from 6:30PM to 8:30PM at the Ringpfeil Advanced Dermatology gallery, 569 W. Lancaster Avenue in Haverford PA. The event is open to the public (Please R.S.V.P to rad(at)ringpfeildermatology(dot)com)
The Ringpfeil's exhibits are known as important events for local artists and prominent residents. Many local artists have gathered to enjoy art, good wine, h'ordeuvres, music, and a great crowd.
A slideshow of the exhibit is available on the dermatology practice's website: http://www.ringpfeildermatology.com?gallery=CHANTAL
About the Chantal Westby:
Internationally acclaimed Abstract painter, Chantal Westby creates an intuitive, energetic world of whimsy on her canvases.
Neat and clean in her use of line, Westby's works express an evocative feeling of vigor and vivaciousness. With a sumptuously controlled color palette, these works are graceful in their spiritual fluidity of rhythm and measure. Imaginative and meticulous in skill, they sparkle through the artist's nuanced approach to the outside world.
Translated and inspired by the poignant artistic vision, this world comes alive for an eclectic audience. At once ardently personal and uniquely universal infused with a touch of Asian influences. Westby's works evoke the timeless beauty, articulated in her purity of form and line. The intense color palette of gold places us in the tangible the shapes and compositions whisk us away to a deeper, mystical place.
About Ringpfeil Advanced Dermatology
Ringpfeil Advanced Dermatology provides premium general dermatology, cosmetic dermatology, dermatological and laser surgery to the Philadelphia, Main Line, and Delaware Valley area. The practice was founded by Franziska Ringpfeil, MD, a board certified dermatologist with training in both the US and Germany as well as national and international recognition through lectures, peer-reviewed articles and many book chapters. She is assistant professor at Jefferson Medical College and the recipient of the prestigious Young Investigator Award by the American Academy of Dermatology. Her practice provides uncompromised quality of care through experience, technology, and focus on patient satisfaction.