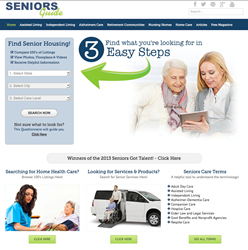 But the best part is every time someone clicks on the form, we know they are one step closer to getting the care they need."
Richmond, Virginia (PRWEB) May 11, 2016
When a senior can no longer live independently, it's often challenging to determine the level of care they need as well as find that care. To facilitate this difficult process, the Seniors Guide has recently developed an easy-to-use, online assessment form to guide seniors and their families in choosing the personal care or housing that's right for them.
"We know the struggles seniors and their loved ones face in making these life-changing decisions," says Katherine Ross, vice president of Seniors Guide magazine. "Because we are a trusted resource for seniors, we knew we had to find a way to help."
The assessment tool, which was developed using Seniors Guide's extensive knowledge of the industry, inquires about everything from a senior's ability to dress him or herself to mental awareness. With the user's responses, the tool immediately delivers "suggestions" regarding care and housing—everything from home care to nursing care. The tool even recommends products and services, such as realtors and movers. All suggestions are directly linked, through SeniorsGuideOnline.com, to resources in a senior's area.
Despite its comprehensive nature, the form only takes a few minutes to complete. No personal information is required, so the user won't be inundated with follow-up communications as a result of completing the form.
"So far, we have been very pleased with the response and the number of people using the form," says Ross. "But the best part is every time someone clicks on the form, we know they are one step closer to getting the care they need."
Find this assessment tool at: http://www.seniorsguideonline.com/evaluation.