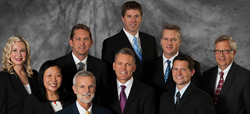 ...we use laser energy that is gentler on surrounding tissue.
Warsaw, IN (PRWEB) May 10, 2016
Grossnickle Eye Center becomes one of the first in the area to introduce glaucoma patients to an innovative new laser treatment using the MicroPulse® P3 device by Iridex. The comprehensive eye care practice cites the laser system's precision and versatility as their primary motivation for acquiring it.
Glaucoma, infamously known as the silent thief of sight, is a disease that gradually damages the eye's optic nerve and is usually caused by increased pressure within the eye due to fluid build-up. Bruce Grossnickle, MD, of Grossnickle Eye Center explains that the new MicroPulse technology is used to reduce intraocular pressure. "With the MicroPulse P3 device," he says, "no incision is needed. Instead, we use laser energy that is gentler on surrounding tissue, which minimizes inflammation and helps significantly lower our patients' post-procedure downtime."
Christopher Knight, MD, glaucoma specialist at Grossnickle Eye Center, is excited about the flexibility this technology provides. "Because of the minimally invasive nature of the MicroPulse P3 device, it really opens up the door for us to provide IOP [intraocular pressure] control to a wide range of patients, from those with early glaucoma all the way to those with more complicated cases. Studies show MicroPulse P3 provides repeatable, predictable results, and we're eager to bring proven technology like that to our patients in northern Indiana."
GROSSNICKLE EYE CENTER
The experienced physicians at Grossnickle Eye Center, including six ophthalmologists and five optometrists, provide comprehensive eye care services, including advanced medical and surgical procedures, such as laser cataract surgery, LASIK, and treatment for glaucoma and macular degeneration. They serve patients from their offices in Warsaw, Mishawaka, and Elkhart, as well as a clinic site in Plymouth. Since its founding in 1979, Grossnickle Eye Center has retained a primary focus on providing the highest quality care and individual attention to each patient.