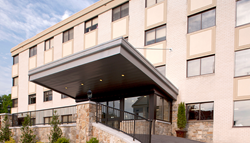 Lawrence, New York (PRWEB) May 11, 2016
Harborview Capital Partners, a full service commercial real estate finance firm, has arranged a $73,000,000 Bridge and Revolver loan for the refinance of a skilled nursing portfolio. The nine building portfolio has 936 beds and is located throughout Ohio and Maryland. The deal consisted of a $12,000,000 revolver loan and a $61,000,000 bridge loan. The capital stack was further enhanced by a mezzanine loan in the amount of $8,500,000. Funds were used to refinance existing debt, exercise purchase options and consolidate balance sheets, in preparation for bringing the portfolio to HUD.
 
The transaction was originated by the firm's Principals, Ephraim Kutner and Jonathan Kutner and was negotiated by Gershon Yarmush, Senior Loan Analyst, in Harborview's New York headquarters. The five-year loan features a competitive LIBOR based interest rate, and one year of interest only payments, and no personal recourse.
 
"Working with Harborview on this complex transaction was a pleasure. They were able to provide not only the financing, leverage, results and terms we needed but also assisted with structuring and syndication efforts," said Charlie Stoltz, CFO and a Principal of CommuniCare. "This partnership has allowed us to focus on our core mission of providing quality affordable care across our skilled living portfolio."
 
Harborview Capital Partners is a full service commercial real estate finance firm based in Lawrence, NY, providing debt, equity and advisory services for all of the commercial real estate asset classes including multifamily, healthcare, office, retail, industrial and hospitality. The firm distinguishes itself with an industry leading proprietary mezzanine loan program. Harborview prides itself on providing its clients with clarity in lending and certainty of execution.