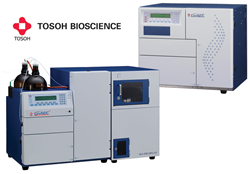 This is a unique partnership that represents the largest and most diverse academic GPC facility in North America.
King of Prussia, PA (PRWEB) May 10, 2016
Tosoh Bioscience and the College of Polymer Science and Polymer Engineering at The University of Akron, one of the world's top-ranked polymer sciences programs, will celebrate the opening of a new laboratory for the analysis of polymers and composite materials this Wednesday, May 11. The Tosoh Polymer Chromatography Laboratory located at the Goodyear Polymer Center offers start-of-the-art Gel Permeation Chromatography (GPC) Systems from Tosoh Bioscience for polymer scientists working in academia and industry.
Dr. Eric Amis, Dean of the College of Polymer Science and Polymer Engineering and Vice Provost for Research, explains that the mission of this newly created laboratory is, "to educate the next generation of polymer scientists with the best tools for their cutting edge research to create, understand and use new polymers, nanomaterials, and biomaterials."
"Scientists within the College of Polymer Science and Polymer Engineering and surrounding industry now have access to technology that provides superior performance with increased throughput capabilities," said David Olenski, GPC Product Manager, Tosoh Bioscience LLC. "The University of Akron and local companies are engaged in breakthrough research and development. Tosoh is excited about meeting the needs and challenges of these polymer scientists."
The laboratory will also be resourced with external detection instrumentation provided by Wyatt Technology. Dr. Matt Becker, Associate Dean for Research and Professor in the Department of Polymer Science, says, "This is a unique partnership that represents the largest and most diverse academic GPC facility in North America. It will be an invaluable resource for the industry members locally and regionally looking for advanced chromatography."
TOSOH BIOSCIENCE LLC
Tosoh Bioscience LLC provides liquid chromatography products to laboratories and manufacturing plants in the Americas. While the majority of our customers work in biotechnology and pharmaceutical companies, our HPLC columns are essential tools for sample analysis in most industries. In the field of biotechnology, our preparative chromatography resins play a critical role in the purification of proteins and nucleic acids for medical purposes.
The company is a subsidiary of Tosoh Corporation in Japan, the parent of the Tosoh Group, which comprises 141 companies worldwide and a multiethnic workforce of over 10,000 people and generates sales of ¥827 billion (US $8.3 billion) annually.
THE UNIVERSITY OF AKRON
The University of Akron (UA), Ohio's Polytechnic University, is the region's most influential public research university, contributing to the resurgence of the local economy, providing a workforce highly trained in diverse disciplines, and known for an innovative approach to higher education. With nearly 25,000 students and more than 300 associate, bachelor's, master's, doctorate and law degree programs, UA offers career-focused and experiential learning that defines the polytechnic approach to education. From polymers and psychology, to engineering and integrated marketing communications, to education and choreography, UA brings together diverse disciplines in ways that provide students with life-long skills, internships and co-ops, opportunities for academic research, study abroad, on-campus student employment and service projects designed for diverse groups of learners, including full-time, part-time and on-line students, veterans, and adults returning to the classroom.