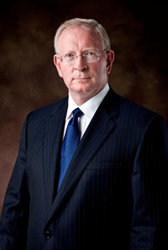 In terms of record, philosophy, stances, and character, Darrell Castle is probably the best individual running for president in this race."
Lancaster, Pennsylvania (PRWEB) May 10, 2016
Meeting in Salt Lake City, the Constitution Party Presidential Nominating Convention selected Memphis area lawyer Darrell Castle to serve as the party's 2016 Presidential Nominee. Though several candidates had been actively campaigning for the nomination, Mr. Castle was drafted from the floor of the convention and won with 184 delegate votes. He has been both a state and national Constitution Party leader since its founding in 1992, including serving as the 2008 Vice-Presidential Nominee in Chuck Baldwin's presidential run. He is also the creator of the internationally-known Castle Report podcast.
In his acceptance speech, Mr. Castle said, "I want to speak to you in defense of liberty . . . and against tyranny. I speak for the republic and against the fascism that seems to be enveloping us. What it is, folks, is this government, the United States government . . . was created by the sovereign states for a specific purpose. That purpose was to protect our God-given rights. That was the purpose of the government. Anything that runs afoul of this is unconstitutional and virtually everything the government does is illegal and unconstitutional. There seem to be a lot of people who want it that way. The purpose to protect our God-given rights has been surrendered. It's been surrendered to a new government, a new global world that's enveloped us."
A Castle presidency will focus on the following points:

Strict adherence to the Constitution
Withdrawal of the United States from the United Nations
Ending the Federal Reserve System
Withdrawal from international legislation such as Agenda 21
Ending abortion
Remso W. Martinez, of LibertyConservatives.com, had this to say about Darrell Castle, "Castle is more liberty minded than most of the Libertarian Party candidates, and more conservative by miles than Donald Trump. Castle is the only candidate running that takes his talking points from the Founders and his directions from the Constitution. In terms of record, philosophy, stances, and character, Darrell Castle is probably the best individual running for president in this race."
The Convention also voted to support Scott Bradley of Utah as Mr. Castle's choice for a vice-presidential running mate. Mr. Bradley is a nationally-known speaker and teacher on the founding principles of America. He is the founder and chairman of the Constitution Commemoration Foundation, and author of the DVD/Lecture series "To Preserve the Nation."
More biographical information and the campaign's position on the issues can be found at Castle2016.com. Both Darrell and Scott are available for interviews.
To contact the campaign or to arrange interviews, please send an email to: karen(at)castle2016.com
For more information about the Constitution Party, visit our website at: http://www.constitutionparty.com
National Office mailing address: PO Box 1782; Lancaster, Pennsylvania 17608
National Office phone: 1-800-283-8647
National Communications Office: commsdirector(at)constitutionparty(dot)com