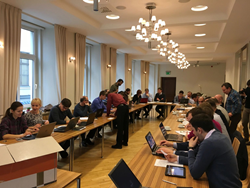 There is no substitute for being well-trained.
New York City, NY (PRWEB) May 11, 2016
The upcoming North American Passive House Network Conference and Expo, held June 13-14 (NAPHN16), is aiming to be a game-changer in the efforts to decarbonize our built environment. Not only will the conference have two days full of leading edge educational sessions and panels, but in-depth workshops will also occur June 11th and 12th, on the two days before the main conference.
Executing successful, fully-optimized Passive House projects requires a vigilant attention to building details rooted in science and using tools that enable professionals to leverage building physics. The workshop topics offer deep dives, covering a wide range of critical technical aspects of project delivery, including energy model optimization, summer comfort, and ventilation regarding large multifamily and small stand-alone projects alike.
"Professionals understand that continuing education is fundamental to making better buildings," says Bronwyn Barry, Co-President of NAPHN. "Nowhere is this more true than in making Passive House buildings, where the familiar conventional rules may no longer apply and an almost new and fully developed skill set is required." Barry adds "There is no substitute for being well-trained."
Leading up to the conference, 6 half-day workshops offered by NAPHN16 will include:

Multifamily Passive House Projects: "The Whole Shebang" with Tomas O'Leary of PHA and Jessica Grove-Smith of PHI.
Variants and Optimization of PHPP: "Coulda, Woulda, Shoulda" with Andrew Peel and Bronwyn Barry
PHPP v.9 (IP Version): "What's New, with a Focus on Retrofits" with Jessica Grove-Smith of PHI
Overheating: "Overshooting the Summer Comfort Target & Landing on Overheating" with Nick Grant of Elemental Solutions and Mark Siddall of LEAP
Ventilation: "May the (Larger Buildings) Force Be With You" with Andrew Peel of Peel Passive House Consulting
Ventilation: "May the (Smaller Buildings) Force Be With You" with Kara Rosemeier of PHNZ
More information and registration can be accessed on NAPHN16's Workshop Schedule & Registration.