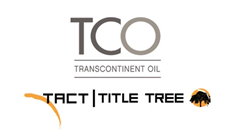 With change comes new vision and new goals that will lend towards adapting to our modern markets.
Denver, CO (PRWEB) May 31, 2016
TCO's New Executive Management Team now consists of Glenn Land who has been appointed to the position of Executive Vice President of Land and Senior Partner and Pam Cortese who has been appointed to the position of Executive Vice President of Operations and Senior Partner. The previous Senior Partners have announced their retirement.
Glenn Land earned a BS in Geology with minors in Mathematics, Business, and Art from Florida State University in 1993. He was hired on with TCO in 2000 and became a Jr Partner in 2010. He has held several positions including running field title, in-house title, and also has been a Crew Chief and Project Manager. Glenn is an active member of AAPL and DAPL.
Pam Cortese has worked in the Oil and Gas industry for 30 years. She has been employed by TCO since 2005 and through her work ethic and knowledge of the business she first earned a Jr Partnership status in 2010. She has worked her way up through the ranks and has held positions such as Title and Project Manager for several years. Pam is an active member of AAPL and DAPL.
Founded in 1958 by Wendell (Dude) Haley, Transcontinent Oil (TCO) was built on a reputation of honesty, hard work, determination and attention to detail derived from their decades of combined experience as field landmen.
In 1993 the sons of Dude Haley - Brian Haley and Mike Haley - took over ownership and operation of TCO. Julie Finegan has worked for TCO since 1998 and contributed to the growth and success of the company. She became a partner 2009. As of January 1st, 2016, Brian Mike and Julie have announced their retirement, but they continue to sit on the Board of Directors for TCO. Brian serves as the Chairman of the Board and Mike and Julie continue to hold board member positions.
About TCO:
TCO is a legacy, full service land brokerage, and land and title software (TACT | TITLE TREE) company. TCO has grown to become Denver's oldest and most respected land services company. With their headquarters located in Denver, CO, TCO has worked throughout the majority of the oil and gas basins across the US.
Their highly experienced project managers and support staff allow them to oversee land title, due-diligence, abstracting, lease and right-of-way projects, of any size and complexity. Their dedication to their clients extends beyond just getting the job done; They take pride in cultivating long lasting relationships. Their longstanding partnerships that they've created through the years are evidence of their commitment to provide unparalleled service.
For more information, please visit our website or call us at 303-298-8108.