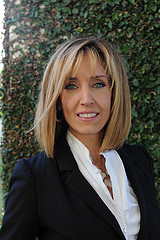 Succeeding as a woman entrepreneur involves so much more than just promoting your business.
Tampa Bay, FL (PRWEB) May 10, 2016
Women entrepreneurs have made significant progress in recent years; in 2015, America's 9.4 million women-owned businesses generated nearly $1.5 trillion in revenues and employed more than 7.9 million people (1). However, women-owned firms still only account for 3 of every 10 U.S. enterprises (1). Monica Eaton-Cardone—risk-management entrepreneur and co-founder of Global Risk Technologies, Chargebacks911 and eConsumerServices—maintains that there are excellent opportunities for women in business, provided they're able to differentiate themselves in today's crowded marketplace. To help women entrepreneurs succeed, Eaton-Cardone shares her advice on how to stand out, get recognized and get ahead.
According to the latest American Express OPEN report on women-owned businesses, an average of 887 new women-owned firms opened every day in 2014–2015; and from 1997 to 2015, the number of women-owned companies grew 74%—which is 1.5 times the national average for all businesses (1). Yet a government report noted that women receive just 16% of conventional small business loans and 7% of venture capital, and account for only 4.4% of the total dollar value of loans from all sources (2).
"Historically, women entrepreneurs have faced much greater challenges than their male counterparts in obtaining recognition, funding and business opportunities. The first step in overcoming those disparities is to make an effort to stand out—women business owners need to set themselves apart to gain the attention and respect they deserve," explained Eaton-Cardone. "If you're starting your own business, presumably it's because you have an idea that fulfills an unmet need or an area of expertise that provides tangible value. It's important to distinguish your business from all of the others competing for the same dollars; you need to be able to show why you're different from—and better than—the rest."
Eaton-Cardone previously published her advice for women entrepreneurs to help get a new business off to a successful start. Here, she shares several proven ways women can differentiate their business and gain recognition:

Publish a book or e-book. It's not enough to be well versed in your particular business area; you need to be able to demonstrate that expertise to others. Publishing a book can generate widespread exposure, create name recognition and position you as a leader in your field. Self-publishing makes it possible to get your work in front of the world without having to land a deal with a traditional publisher. If you don't have the time or content to develop a full-length book, start with a series of white papers or free e-book downloads. If you provide value, people are likely to talk about and share that content for you.
Write articles and guest blog posts. Seek out the publications and bloggers that represent authorities and influencers in your field. Review the types of articles they publish, and then contact them with a proposal for a bylined article or guest blog post. If you have valuable information to share—whether an industry analysis, practical tips or original research—they're likely to be interested in your offer. When your name and ideas appear in highly regarded sources, it helps establish you as an authority.
Pursue speaking opportunities. Not only are industry conferences a great place to network and learn, but they're also an ideal place to find an audience that is receptive to your ideas and expertise. Many conferences allow entrepreneurs to pitch ideas for sessions, workshops and panels. Look for ways you can contribute to or build on the topics they typically feature in their program, and focus on delivering valuable takeaways to attendees. Once you prove your worth as a speaker, you're likely to find conference organizers will seek you out for future events.
Perfect your pitch. Women entrepreneurs have a long way to go in overcoming the current disparity in funding and business opportunities; but rather than being discouraged by that fact, use it as the impetus to drive yourself to become one of the success stories. Start by observing others; attend pitch competitions and even watch venture-fund pitch shows like "Shark Tank." You'll not only learn what it takes to stand out and succeed, but you can also discover pitfalls to avoid. Model your own pitch after the winners, and push yourself to go even further. Practice makes perfect; if your funding or business pitch doesn't succeed the first time, fine-tune it and try again until you find your winning formula.
Embrace your differences. Many women in business believe they need to follow the same playbook as their male counterparts. But the most successful women entrepreneurs don't see themselves merely "as good as" male-run businesses; they highlight their differences to show why they are better. Identify ways that your business is superior to the competition, and highlight your own unique attributes. If you're achieved certification as a Women's Business Enterprise (WBE), be sure to leverage that—many companies and agencies are eager to partner with women-owned businesses. In fact, the federal government aims to award 5% of contract dollars to women-owned small businesses, and still has yet to meet that goal (2). Make it easy for potential clients to identify your firm's WBE status, and prove why they'll benefit from hiring you.
"Succeeding as a woman entrepreneur involves so much more than just promoting your business. Sharing your knowledge through public channels—whether books, articles or speaking engagements—can gain you far more attention, recognition and respect than heavy investments in marketing and advertising," noted Eaton-Cardone. "It's also important to find your voice. Know who you are as a business and as an entrepreneur, and position yourself as the leader you aim to be."
Monica Eaton-Cardone will be presenting at the upcoming MasterCard Global Risk Leadership Conference, the 2016 CNP Expo and the Ticket Summit in Las Vegas. She invites fellow women entrepreneurs and business leaders to connect with her at these and other upcoming events, and welcomes requests for interviews and future speaking engagements. For more information, visit http://monicaec.com.
About Monica Eaton-Cardone:
Monica Eaton-Cardone is an entrepreneur and business leader with expertise in technology, eCommerce, risk relativity and payment processing solutions. She has co-founded a number of successful companies, employing 350+ people globally. With the advent of "friendly fraud" expanding from the U.S. to other countries, Eaton-Cardone recognized the necessity to protect the global economy from illicit chargeback threats; hence, Global Risk Technologies (GRT) was established. She currently serves as the CIO of GRT, an international organization with subsidiaries in the U.S.; Chargebacks911; and eConsumerServices. She additionally continues to hold the position of COO of Chargebacks911. Eaton-Cardone has earned a reputation for creative business solutions, helping merchants and banks to achieve sustainable payment processing practices and supporting consumers in resolving transaction issues. She is a champion of women in IT, and hopes to contribute to an expanded presence of females in technical professions and leadership roles.
1. Weeks, Julie. "Women-Owned Firms Springing Up All Over"; overview of The 2015 State of Women-Owned Businesses Report by American Express OPEN; May 18, 2015. americanexpress.com/us/small-business/openforum/articles/women-owned-firms-springing/
2. Cantwell, Maria. 21st Century Barriers to Women's Entrepreneurship: Majority Report of the U.S. Senate Committee on Small Business and Entrepreneurship; July 23, 2014. sbc.senate.gov/public/?a=Files.Serve&File_id=3f954386-f16b-48d2-86ad-698a75e33cc4