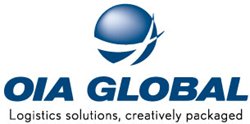 Portland, OR (PRWEB) May 10, 2016
OIA Global, a leading logistics, packaging and material sourcing provider, announced an important Southeast Asia expansion with the opening of its new location in Chennai, India. Gandhi JJ, OIA's Senior Operations Executive in Chennai said, "while OIA has had a presence in this location through a network of strategic partnerships for years, increasing customer demand now requires we establish our own operation."
"The International Monetary Fund (IMF) expects economic growth in India to exceed 6% in 2016. India's economic growth is now expected to outpace China this year," stated Peter Wong, OIA's Managing Director, Asia Pacific. "Growth in Chennai has been led by the automotive, technology and textile sectors," Wong noted. "As OIA continues to experience impressive growth in Southeast Asia, India is expected to be an important part of the company's growth over the next few years," he added. Sujit Nair has been named as Branch Manager of the new Chennai location.
OIA'S CHENNAI OFFICE CAN BE REACHED AT THE FOLLOWING ADDRESS AND TELEPHONE NUMBER:
OIA CHENNAI OFFICE
Lakshmi Towers, 3rd Floor, No. 33/17
Thambu Chetty Street
Parrys, Chennai, 600 001, India
T: +91-44-4318-3220
T: +91-44-4318-3221
About OIA Global:
Since its founding in 1988, OIA has grown into a $1 billion supply chain management leader, delivering clients a unique combination of global logistics, materials sourcing, and packaging solutions. With over 1000 professionals in 60+ owned offices, and a worldwide presence in 26 countries, OIA designs innovative solutions that optimize supply chains around the world. OIA is privately owned by Indianapolis-based LDI, Ltd., with more than a century of experience funding and operating high potential, middle-market companies. For more information please visit http://www.oiaglobal.com  and http://www.ldiltd.com.
OIA Global Media Contact:
Jerry Levy
Director of Marketing and Communications
+1 503.736.5900