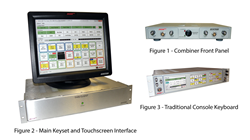 Quintron's DICES VoIP is already providing successful support at virtually every US rocket launch operations center and has also just been selected for use at the new STRATCOM Global Operations Center under construction at OFFutt AFB in Omaha.
Santa Maria, California (PRWEB) May 10, 2016
Quintron Systems, Inc. (quintron.com), the recognized leader in advanced mission-critical voice systems, is proud to participate in the Space Tech Expo this year on May 24-26 at the Pasadena Convention Center. Quintron has been a supplier to the space launch industry for over 40 years with innovative voice product solutions. At the top of Quintron's current product line is the industry-first true client-server product, DICES VoIP. This product combines leading edge features with completely new net-centric system architecture. It is already providing successful support at virtually every US rocket launch operations center. DICES VoIP has also just been selected for use at the new STRATCOM Global Operations Center under construction at Offutt AFB in Omaha.
Hands-on demonstrations of DICES VoIP will be provided at the Quintron booth (#7003), right across from the Free Sessions Theater, including two recent technical innovations to the IP voice system marketplace: Multi-Level Secure audio access from a common user interface and true Red/Black system operations. Both of these are delivered products with proven performance on major US Government programs.
The Red/Black system is in use for a major USAF program and includes fully-isolated central core switches for both Red and Black audio content. To facilitate efficient and intuitive end user access with TEMPEST-class separation, a special Headset Combiner is provided to select active outgoing voice traffic on either Red or Black systems via a front panel knob. Isolation design within the Combiner precludes crosstalk while also providing intuitive display of operational status on the two user touchscreen displays. Active electronics for both Red and Black audio is provided by two Single-Board Computers to maintain strict isolation standards through the core switch servers. The Combiner provides simultaneous "listen-only" access to both Red and Black audio. When either Red or Black is selected into active transmit mode the other audio paths are interrupted with relay isolation. The photo in Figure 1 shows the Combiner front panel with Red/Black selection knob in the middle with LED indicators and headset connectors on the sides with individual volume controls.
The new STRATCOM Multi-Level Secure audio design provides for a completely different operating scenario when a command center operator needs simultaneous access to incoming secure phones along with computer-based audio traffic. The new DICES VoIP design builds off the similar design in use since 2005 and updates the computer audio access to work from central blade servers for more integrated system management. Standard DOD telephones positioned at the operator station provide access to incoming calls at various security levels with all call answering done from the DICES VoIP user interface (see Figure 2 for the main keyset and touchscreen user interface). Special separation electronics inside the main keyset housing ensures complete isolation and cut off control similar to Red/Black operation by assigning security settings to each access key. Computer audio is distributed through the core DICES VoIP switch server to the assigned operators and appear as additional access key assignments. As in the Red/Black design, "listen only" operation is available on multiple audio circuits with automatic cut off on listen keys when one is selected into active "talk" mode.
In addition to these new user keyset solutions, Quintron can also supply traditional console designs for legacy locations in 2RU size with full touchscreen operations (see Figure 3). This design supports the greatly expanded feature set available through server-based architecture and touchscreen flexibility. "We were faced with supporting a major customer, United Launch Alliance, in upgrading legacy launch control systems to IP-based designs while directly fitting into the existing launch control center consoles spaces (only 2RU)," said David Wilhite, president and chief operating officer at Quintron. "We found a way to integrate 4.3" touchscreens from smart phones into the existing 2RU front panel and provide expanded key count access on two screens, plus incorporate more user control features on the third screen. This is a wonderful example of how Quintron solves customer problems with exceptional engineering solutions."
All of these mission control and command center audio system solutions will be available for hands-on operation at booth #7003 at the Space Tech Expo. We encourage all parties interested in seeing the most innovative and cost-effective solution in the marketplace to stop by for a more detailed discussion and evaluation.
For more information about Quintron solutions and services, call 805.928.4343 or visit quintron.com.
About Quintron
For over 46 years, Quintron has provided high technology and cost effective solutions worldwide to government and industry in support of mission and command center audio applications. No other company offers the depth of expertise found at Quintron in fault tolerant, mission-critical communications and exceptional customer service. Visit quintron.com or call 805.928.4343 for more information.
# # #
All trademarks in this release are the property of their respective owners.