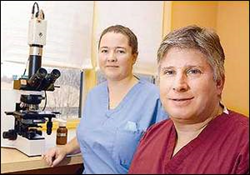 "Exceptionally high IVF success rates means we've helped more patients overcome their struggle with infertility."
Lakewood, New Jersey (PRWEB) June 07, 2016
According to the latest annual data just released by the Society for Assisted Reproductive Technology (SART), the primary outcome per intended retrieval for women under age 35 using their own eggs to complete IVF treatment cycles at Morgan Fertility and Reproductive Medicine (formerly Shore Institute for Reproductive Medicine) in 2014 had a live birth rate of 60%, 18% above the national average of 42.6%.
Since 1992 reproductive endocrinologists have been required to report IVF delivery rates to the Centers for Disease Control and Prevention (CDC) and SART. The data is analyzed then released to the public 18 months later in order to provide patients with a comprehensive overview of IVF treatment and illustrate individual fertility centers' success in the field.
Live Birth Rates 18% Above National Average in Women under Age 35*
"We're very excited to share the latest IVF success rates with the public. Behind every statistic is a person or couple struggling for parenthood", states Dr. Allen Morgan. "Exceptionally high IVF success rates means we've helped more patients overcome their struggle with infertility."
SART's new yearly report structure now includes genetic testing, egg and embryo cryopreservation and elective single embryo transfer (eSET). These procedures have improved live birth rates over the past decade and drastically reduced the occurrence of high-order multiple gestations.
"In recent decades we've been able to help more patients achieve success – the birth of a healthy child – faster than ever before, with less chances at twins and multiples," says Dr. Morgan. "The future is bright in our field. And, we're proud to lead the way."
Dr Morgan advises potential patients to also consider proximity to home or work, reputation for individualized care and ample financial assistance options when choosing a reproductive endocrinologist since the annual SART report numbers reflect varied patient selection criteria, treatment approaches, and cycle reporting practices that may inflate or lower pregnancy rates.
About Dr Allen Morgan:
Dr Morgan is recognized for his minimal use of fertility drugs where appropriate, with exceptionally high success rates, and for his advocacy for national infertility awareness.
After completing his bachelor's degree at Columbia University, Allen attended medical school at Far Eastern University in Manila while a Captain in the US Army Reserves. He then completed his residency in Obstetrics and Gynecology at Long Island Jewish Medical Center in New York and Jersey City Medical Center here in New Jersey. Dr Morgan completed his fellowship in Reproductive Endocrinology and Infertility at The University of Kentucky before opening his own practice on the Jersey shore in 1993.
Dr Morgan is also a clinical professor at Jersey Shore Medical College, teaching OB-GYN residents since 1993. His expertise also encompasses advanced laparoscopic and hysteroscopic surgery to preserve and enhance female fertility, treating conditions such as endometriosis, ovarian cysts, and uterine fibroids and polyps.
*reported to and published by Society for Assisted Reproductive Technology (SART) for the year 2014
Media Contact:
Jennifer Russell
Morgan Fertility and Reproductive Medicine
(formerly Shore Institute for Reproductive Medicine)
(732) 363-4777
Jennifer(at)AllenMorganMD(dot)com