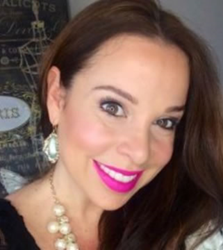 Dworkin is delighted to represent Phytomer Group USA and help spa partners realize their business potential.
SALT LAKE CITY, UT (PRWEB) May 12, 2016
Phytomer Group Brands USA is pleased to introduce Pearl Dworkin as Regional Account Manager for Northern California. Dworkin is a licensed esthetician and comes to Phytomer with an extensive skill set and wealth of experience. She has received advanced training in oncology esthetics and has worked at a top day spa as well as a medical office. She also brings entrepreneurial insight to the position, having owned and operated her own skin care clinic in the San Francisco area. As a Phytomer Group USA account manager, Dworkin's role is to provide excellent customer service, support, training and knowledge to spa partners for the four skin care brands that make up The Phytomer Group.
Dworkin is delighted to represent Phytomer Group USA and help spa partners realize their business potential. "I'm very excited to work with Phytomer Group Brands USA, the world leader in advanced marine biotechnology," she says. "I've been hooked on Phytomer since my very first Oligomer® bath. I am eager to visit all of the spas, estheticians and medical offices in Northern California and I'm especially excited to help organize trainings and events," she continues.
Since coming on board in spring 2016, Dworkin has met with multiple spa partners. She looks forward to hearing from all contacts within her region and can be reached at pdworkin(at)phytomerusa(dot)com.
Phytomer at a glance:
With over 40 years as the leader in the marine skin care, Phytomer is now a pioneer in the field of marine biotechnology, the future of results-oriented cosmetics. This is the newest technology to create innovative, 100% natural skin care ingredients. Based in Saint-Malo, France and distributed in 70 countries worldwide, Phytomer has a reputation of leadership and expertise within the spa industry. With Phytomer meaning "plant of the sea," we utilize seawater, seaweed or seaside plants in every retail and professional product, combining science with the natural powers of the sea. We are one of the only spa brands with our own laboratory, allowing us to research and cultivate our own ingredients, develop unique cosmetic formulas, manufacture skin care products and create cutting-edge professional treatments to deliver remarkable results.