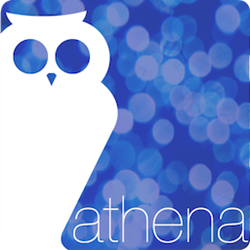 This award helped emphasize the hard work I've put into the social work program so far and provided a sense of motivation to keep going.
Waterloo, ON (PRWEB) May 10, 2016
Athena Software (http://www.athenasoftware.net) is pleased to announce that Tanya Costantini is this year's recipient of the Bernard Porlier Social Work Scholarship, a financial award given annually to a student in the Master of Social Work (MSW) program at Wilfrid Laurier University (WLU) in Waterloo, Ont.
The $2,000 award is given each year to a student in the two-year part-time or four-year full-time MSW program at WLU who pairs strong academic achievement with excellence in the field related to the health and wellness of families in the community.
"It is our pleasure to honour students like Tanya who display a commitment to academic excellence and community each year," said Neil McDonald, head of communications and marketing at Athena Software. "It's also an annual privilege to celebrate the legacy of Bernard Porlier, whose contributions to the social services community have had such a positive impact on countless families in Waterloo Region."
The award was established by Athena Software in 2008 and is named after the former executive director of K-W Counselling Services in Kitchener, whose contributions to the lives of families and individuals in Waterloo Region is commemorated by the award.
"Laurier and the Faculty of Social Work are very thankful to Athena Software for continuing to provide this award to recognize Master of Social Work students," said Nick Coady, Dean of the Faculty of Social Work at WLU. "This award recognizes the contributions that Bernard Porlier made to the wellbeing of families and encourages students to follow his example. This year's award winner, Tanya Costantini, had significant experience in working with disadvantaged children and families prior to entering the MSW program and she demonstrated excellent practice in both of her MSW placements. One placement supervisor lauded her 'self-awareness, empathic nature … and commitment to the values of social work.'"
Tanya said her love of learning and compassion for others led her to pursue a career in social work.
"I always knew I loved working with others and was passionate about helping those in need," she said. "After completing my Bachelor of Science degree in Child, Youth, and Family Development from the University of Guelph in 2014 I knew I wanted to keep learning. I was drawn to the profession of social work due to its broad nature, in that it opens many doors of opportunity. Having faced many medical challenges myself, I was excited to support others in developing their skills and abilities to manage or resolve the problems they are facing."
Her experience in the MSW program at WLU has helped shape Tanya's future career path as well as providing her with lasting connections, she said.
"I was drawn to the MSW program at Laurier due to its reputation and its location. This program provided me with many new skills and learnings that have become incredibly useful in the field. Further, this program helped me realize that I am most interested in the clinical side of social work, working with individuals, families, and groups. The two practicum placements within the program were my favourite part of the program, as they provided an opportunity to apply new social work skills in a real-life setting over a good period of time. Plus, it was great to meet so many like-minded individuals, my fellow classmates, and build friendships with individuals who will be working in the same field for many years to come."
As well, completing her Master of Social Work has already helped Tanya land a great opportunity in her field.
"I'm so fortunate to have secured a permanent social work position before graduation at a local hospital. I'm working with patients undergoing bariatric surgery with the support of a fantastic interdisciplinary team. I'm not sure what the future will bring, but I'm excited to be working in a profession that offers many unique opportunities to support others," she said.
Added Tanya: "I was thrilled to receive the Bernard Porlier award. This award helped emphasize the hard work I've put into the social work program so far and provided a sense of motivation to keep going. Moreover, it definitely helped to cover some of the financial cost of the program."
ABOUT ATHENA SOFTWARE
Athena Software (http://athenasoftware.net) is a case management software provider based in Waterloo, Ont., Canada. Since 2001, Athena has grown to partner with hundreds of health and social service organizations across the globe, with over 17,000 end users of its Penelope case management software solution.