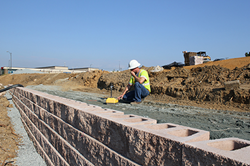 Raleigh, NC (PRWEB) May 10, 2016
Timmons Group is pleased to announce the addition of its newest team member, Jesse Israel, who brings over 10 years of experience in geotechnical engineering to the firm's growing Raleigh office. Jesse's expertise in all areas of geotechnical engineering allows the firm to better serve its clients with the addition of a new service line in North Carolina.
"As part of our continued emphasis on providing our clients with unparalleled service and expertise, we are proud to add Jesse's depth of geotechnical expertise to our team," said Chris Dodson, Principal of Field Operations. "Jesse's experience as a geotechnical engineer nicely complements our existing service offerings in North Carolina."
Before joining Timmons Group, Jesse spent over 10 years working in the geotechnical engineering industry, spending part of that time pursuing his degree in Biological Engineering. His experience includes working in a soil lab, concrete testing, field technician testing, Phase I ESAs, and pre-blast surveys. He graduated from North Carolina State University in 2012.
About Timmons Group
Timmons Group is a multi-disciplined engineering and technology firm recognized for nearly twenty years as one of Engineering News Record's (ENR) Top 500 Design Firms in the country. The firm provides economic development, civil engineering, environmental, GIS/geospatial technology, landscape architecture, and surveying services to a diverse client base. Headquartered in Richmond, Virginia, Timmons Group has regional offices across the United States. For more information, visit http://www.timmons.com.
Media contact:
Tim Klabunde
Director of Marketing
tim(dot)klabunde(at)timmons(dot)com