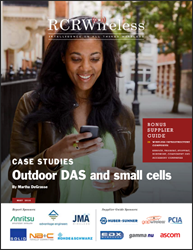 With small cells being a fairly new solution for us, we just did it two different ways so we could test the pros and cons of each solution. Jake Hamilton, Verizon
Austin, TX (PRWEB) May 10, 2016
Outdoor small cells and distributed antenna systems can be used by mobile operators to boost capacity in crowded urban areas, to add capacity at high-value venues, to extend coverage to remote areas, and to cover communities that are not receptive to cell towers. RCR Wireless News recently outlined six case studies that illustrate these use cases.
1. Citywide network in Atlanta
Crown Castle is using its extensive fiber footprint to connect several Atlanta-area systems into one small cell network, which will serve at least two carriers.
2. Verizon C-RAN deployment in San Francisco
Verizon is in the process of deploying 400 small cells in and around downtown San Francisco, with the baseband processors housed in five remote hub locations.
3. Indianapolis Motor Speedway
JMA Wireless deployed its Teko DAS system for Verizon at the world's largest sporting venue ahead of last year's Indy 500 race.
4. Multi-carrier DAS in Maryland
This system started out as a Sprint DAS, but now supports AT&T Mobility and Verizon Wireless as well.
5. Underground cells in Switzerland
These underground cells aren't part of an espionage network; they are part of Swisscom's mobile network, optimized to boost capacity without breaking the bank.
6. Berlin Fan Mile
Vodafone and Telefónica decided to work together to deploy Cobham Wireless's digital DAS in time for New Year's Eve 2016.
One theme that emerged in all the case studies is the economy of scale that infrastructure providers realize through using the same fiber conduit for more than one carrier. Another important trend is the centralized radio access network (C-RAN), which carriers are adopting to minimize the amount of pole-mounted equipment.
Utility poles, streetlights, and other structures in the public right of way are prime property for carriers that need to boost capacity in crowded urban areas. Getting access to these locations is easier in some cities than in others, but in almost all cases the network operators and their partners find that city governments are more agreeable when they see one comprehensive plan from one company, instead of multiple applications from disparate providers. This is good news for neutral host providers like Crown Castle and ExteNet Systems, who build systems to support multiple carriers.
Download the complimentary report to read all of these case studies.
The report is accompanied by a webinar featuring Jacob Hamilton of Verizon Wireless, Joe Madden of Mobile Experts, Ken Sandfeld of SOLiD Technologies, Todd Landry of JMA Wireless and report author Martha DeGrasse of RCR Wireless. This webinar includes discussion of stadium DAS, inner city small cells, suburban and rural deployments, and the importance of small cells to 5G.
About RCR Wireless News
Since 1982, RCR Wireless News has been providing wireless and mobile industry news, insights, and analysis to industry and enterprise professionals, decision makers, policy makers, analysts and investors. Our mission is to connect, globally and locally, mobile technology professionals and companies online, in person, and now on video. Our dedication to editorial excellence coupled with one of the industry's most comprehensive industry databases and digital networks leads readers and advertisers to consistently choose RCR Wireless News over other industry publications.