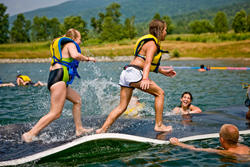 Montpelier, VT (PRWEB) May 10, 2016
Families and adventure seekers flock to Vermont ski and snowboard resorts in the winter for downhill thrills and snowy escapes, but these resorts also shine as a beacon for summer adventure enthusiasts and families looking for outdoor escapes and events. From gorgeous golf greens and mountain trails to lakes, rivers, pools and waterparks, there are so many places (and ways) to plan a summer vacation in Vermont's Green Mountains.
Families Rule at Vermont Resorts
For families planning an adventurous, unplugged summer vacation Vermont is an easy one-stop shop. Save on stays at Ski Vermont resorts with discounted "off season" lodging and great value packages, like the VIP Vermont Package at Stowe Mountain Lodge or the Adventure Zone package at Okemo Mountain Resort.
Camp isn't just for kids anymore. While Vermont resorts are home to wonderful kid-centric camps, Mount Snow's "unplugged" camp welcomes the entire family. Both parents and kids put the devices away for the week and enjoy outdoor activities and family-friendly events. At kids' camps across Vermont, activities range from mountain biking to arts and crafts and range from day camps to multiple week program. Learn more about them at skivermont.com.
For weekend thrills or just a day away, families can enjoy the growing trend in adventure parks which feature thrilling ziplines, mountain coasters and more. Killington expands their adventure center at the Snowshed base area this summer, adding terra tubing and stand up paddle boarding to features like the Beast Coaster and Skyride. Okemo adds an inflatable bag jump like those used by stunt doubles in movies to features like their Haulback Challenge course and zipline tour.
Ride, Bike, Hike Vermont
Whether going up, down or both, hikers and bikers enjoy beautiful views of Vermont's bucolic mountains, valleys and forests. Hiking trails are abundant from ski resort base areas. Visit Bolton Valley for access to over 100km of Nordic trails connecting to Vermont's Long Trail, or Mad River Glen to access the Monroe skyline and grab a bite at the renowned General Stark's Pub.
Mountain biking at Vermont resorts continues to grow at a rapid pace. Lift-served mountain biking options expand this summer at Killington Resort and Okemo Mountain Resort, and Smugglers' Notch Resort adds more trails and class options. Sugarbush Resort joined forces with the Vermont Mountain Bike Association to connect nearly sixty miles of mapped trails to their own trails and will be hosting the Vermont Mountain Bike Festival from July 22-24, 2016. Voted one of the Top 5 Bike Parks in the Northeast Region by MTBparks.com, Burke Mountain Downhill Bike Park opens Friday May 27 for gravity fed delights.
Unwind in the Green Mountains
For those looking a leisure vacation, Vermont resorts offer access to some of the best golf courses in the Northeast, spas that reflect the surrounding beauty and fitness classes that connect with the outdoors.
Vermont's majestic mountains are well-known ski destinations in the winter, but they also serve as the backdrop for some of Vermont's best golf courses. Tee up at Jay Peak Golf course, Vermont's Best Public Course as rated by Golf Digest and Golf Weekly magazines, or check out a championship tournament like the New England Open and Collegiate Challenge at The Quechee Club.
For a little pampering, guests can visit The Stratton Day Spa which offers a full menu of massages, facials and nail treatments. Visitors can also take their yoga practice out of the studio and onto the mountain with spring and summer yoga classes at both mid-mountain and on the summit. The Spa at the Woodstock Inn & Resort boasts a 10,000 square foot, LEED-certified facility featuring 10 treatment rooms, a spa boutique and locally sourced products.
Ski Vermont (Vermont Ski Areas Association) is a proud ambassador of the thriving winter tourism industry in Vermont, where the legislature has designated skiing and snowboarding as the official state sports. Vermont is not only the #1 ski state in east and among the top ski states in the US, but also reigns supreme in snowmaking quality and coverage, variety of terrain and historical impact on the sports of skiing and snowboarding - making it one of the most significant ski and ride destinations in the world. Ski Vermont's mission is to help create a legislative, economic and social environment in which the state's ski areas can grow and prosper. It serves its 20 Alpine and 29 Nordic member resorts in three major areas: Governmental Affairs, Marketing and Public Affairs.