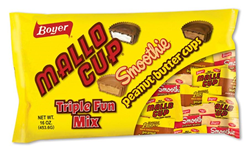 "The 16oz bag is perfect for a supermarket, drugstore, or discount store candy set of large lay-down bags with a MSRP of $6.99." - Deborah Forgione, Director of Marketing
Altoona, PA (PRWEB) May 10, 2016
Boyer Candy, makers of the famous Mallo Cup, now adds a fun mix assortment, which includes individually wrapped pieces of Mallo Cups, butterscotch coated Smoothie Peanut Butter Cups, and our original milk chocolate Peanut Butter Cups. "The 16oz bag is perfect for a supermarket, drugstore, or discount store candy set of large lay-down bags with a MSRP of $6.99." quoted Deborah Forgione, Director of Marketing.
This product is available for immediate delivery. Every bag will also include a 50 point play money coin card on the back. As always, Boyer cup candies are gluten free, trans fat free, GMO free, kosher, and always "Made in the USA". For more information, please visit our website, http://www.boyercandies.com.
Additional high resolution jpegs are available at request.