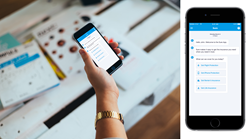 New York, NY (PRWEB) May 12, 2016
Sure announced today that it has introduced the world's first on-demand insurance app powered by artificial intelligence, marking an important step for the company as it drives rapid adoption of mobile, on-demand insurance products. An industry first, Sure uses data-driven approaches to empower consumers with the ability to personalize insurance needs on the go. In doing so, it eliminates the built-in limitations of an industry driven largely by one-size-fits-all recommendations from brokers.
Sure continues to pioneer Episodic Insurance™ in the insurance market by providing consumers with simple options based on the context and information gathered through his or her mobile device with permission. Sure uses data-intelligence and advanced analytics to identify needs and provide products for easy, on-demand purchase. For the first time, customers can buy the type of insurance they need, for exactly the duration they need it.
"While the industry has been talking about context-based and on-demand insurance, Sure has already sold thousands of policies to customers through our mobile app," said Wayne Slavin, CEO and co-founder of Sure. "With our new Robo-Broker technology we've created the first AI-powered insurance platform in the world, bringing an unprecedented level of service and personalization to customers globally — empowering them to make smart life decisions about their insurance needs."
The new AI platform allows Sure to optimize the products they offer based on location, context and behavior. The company's proprietary Robo-Broker uses real-time data to offer customized insurance options through a simple, mobile chat interaction in the Sure app and other chat platforms like Facebook Messenger, Telegram, and Whatsapp. The personalized service gives customers the opportunity to discover coverage needs that they had not realized they could benefit from, in addition to browsing the one that they intended to purchase.
Insurance powered by AI and Sure's Robo-Broker represents a significant business opportunity for the company. In 2014, insurance agents and brokers made $300 billion in commission revenue. At the same time, while Millennials sit high on the technology adoption curve, understanding and purchase of insurance products among them is not as prevalent as compared to other groups, positioning them as a largely untapped market for Sure. By providing simple, mobile insurance products that fits their needs, Sure aims to fix the limitations of today's inefficient insurance-buying model.
About Sure
Founded in late 2014 and headquartered in New York, Sure offers individual accident, life, property, casualty, and warranty insurance policies on-demand and direct to consumers through their mobile devices. Sure has raised $2.6m from investors including: ff Venture Capital, Montage Ventures, and Fosun Kinzon Capital (Fosun Group). For more information, follow us on Twitter, Facebook, or visit sureapp.com.