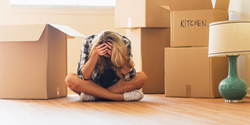 I made it my crusade to educate the public so these things would not keep happening to hardworking families all over America, thus the backbone of what Moving Authority is all about was born
Las Vegas, Nevada (PRWEB) May 10, 2016
May is the busiest month for the moving industry. Phones are ringing off the hooks for moving companies and those big rigs tires are starting to cover a lot of ground. 70% of all moves happen during May with nearly 35.7 million (US Census Bureau) people that are moving each year that is certainly a lot of boxes being packed up.
What is most people's fear when moving? Getting scammed. And Moving Authority is changing that. Educated consumers leads to less people falling victim to moving scams. They have issues a list to help consumers know what to looks for this May if they are hiring a moving company.
The best way to protect your move is to be an educated and informed consumer. One of the biggest problems that consumers face today is fraud in the moving industry. Every the U.S Department of Transportation receives thousands of calls by summers end of customers filing complaints. Here are 8 easy tips to help know if you have hired a real mover or not just in time for Moving Season (May-Aug)
1. Get three moving quotes from different companies. If one is shockingly lower, this is a red flag.
2. How long has the company been around? (A Moving Authority 3 or 6 year badge shows the company has been operating for while and isn't a rogue mover)
3. Does the company have a real address?
4. Have you been presented with real documents that legally state their prices (Tariff, Bill of Lading) DO NOT SIGN BLANK DOCUMENTS
5. Do their moving trucks have a different name or no name on them?
6. Does the company website or truck have a DOT number listed (a legal requirement with the USDOT)
7. Did the company present you with an Arbitration program (another legal requirement)
8. Does the company not accept credit cards? Any company that only accepts cash is one to steer clear of.
Referred to as rogue movers, they pop up like weeds during the summer months only to disappear in the fall. This is why Moving Authority wants to be the solution to this problem that is tarnishing the industry for legitimate Americans that have reputable business. The FMCSA (The Federal Motor Carrier Administration) is a government agency that tracts and regulates the industry. The problem is that there are so many of these scam companies it is overwhelming to keep up, especially when they change their names only to start again.
"Moving Authority was created by leaders in the moving industry. Over the years I have met way too many customers who had been taken advantage of by rogue movers in the past. Some of these stories were really shocking. Instead of commiserating with victims, I decided to take action against rogue movers. I made it my crusade to educate the public so these things would not keep happening to hardworking families all over America, thus the backbone of what Moving Authority is all about was born" said CEO Simon Walsh.
Government agencies along with MovingAuthority.com are the best defense against rogue movers. Moving Authority is the best way to be paired with reputable companies that have undergone inspections from the Moving Authority team. They allow for real customers to leave reviews so these consumer driven reviews along with the background checks Moving Authority conducts together make the perfect combination to help reduce moving scams each year and make the moving industry more transparent!