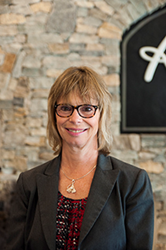 RiverWalk Resort at Loon Mountain will be "that place" where we create enduring memories.
Lincoln, NH (PRWEB) May 09, 2016
RiverWalk Resort at Loon Mountain is pleased to announce that Debi Lombardi has joined the leadership team at RiverWalk as General Manager. Debi possesses over 25 years of management experience in independent and national brand hotels, including her most recent post as general manager of both the Hampton Inn and Fairfield Inn & Suites in White River Junction, Vermont. She has a B.A. from the University of Vermont, attained her C.H.A. (Certified Hotel Administrator) designation in 2003 from the American Hotel and Lodging Association and has attained general manager certifications from Marriott, Hilton and Choice Hotels.
"We are thrilled to have Debi joining the RiverWalk team," said Dennis Ducharme, president of RiverWalk at Loon, LLC. "The knowledge and experience that she brings to the table will embrace the grand experience of the resort for its guests."
Debi has strong ties to the Lincoln, NH community where she spent 17 years in management at the Mill House Inn, Loon Mountain and Comfort Inn & Suites. She characterizes her leadership style as a hands-on coaching method that emphasizes consistency, patience and teamwork.
"I am very excited to be returning to the Lincoln Woodstock community," said Debi, "I look forward to working with the team at RiverWalk to create exceptional experiences with our guests. RiverWalk Resort at Loon Mountain will be "that place" where we create enduring memories."
Debi is a Rhode Island Native and has lived in the North Country for over 35 years. She was previously a member of the Lincoln-Woodstock Chamber of Commerce and in 2010 earned the honor of being chosen volunteer of the year. She and her husband Al reside in Franconia, New Hampshire.
RiverWalk Resort at Loon Mountain is a full-service, resort and fractional ownership hotel at Loon Mountain in Lincoln, New Hampshire. For more information, please visit http://www.riverwalkatloon.com.