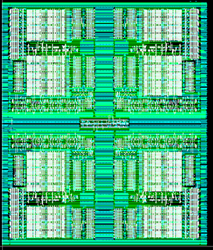 "The growth of cloud computing, big data and machine learning is fueling the demand for high speed chips, while explosive demand for mobile and IoT devices is increasing the need for low power chips."
Cupertino, CA (PRWEB) May 31, 2016
Spontey, a chip design services company with a proven track record providing high end analog and custom design solutions for high speed and low power applications, today announced that it has rebranded itself as RealSilicon. In keeping with the rebrand, the company today unveiled its new website, http://www.realsilicon.com.
RealSilicon will continue to build upon Spontey's established twelve-year history of providing analog and custom design solutions for processors and high end SOC ICs. With a team of over 90 specialists in the US and India, RealSilicon is equipped to meet even the most complex semiconductor design needs.
"The semiconductor industry is coming back with a bang, and this is the perfect time for our company to rebrand in order to seize some of the enormous opportunities that are emerging in the industry" said GP Singh, CEO, RealSilicon. "The growth of cloud computing, big data and machine learning is fueling the demand for high speed chips, while explosive demand for connected cars and mobile IoT devices is increasing the need for low power chips. RealSilicon is bringing innovation to drive the next generation of chip design, and to solve fundamental problems that software alone cannot address."
RealSilicon offers high end analog design solutions for both high speed and low power applications. The company has a proven track record working with Fortune 100 semiconductor companies that build ASIC or ASSP products, and are seeking to augment the expertise of their internal teams. With deep expertise in every step of the chip design process, from architectural feasibility to silicon validation, RealSilicon provides end-to-end solutions, from specification development to tape out, RTL to GDS. The company has deep expertise in leading edge technologies and innovations and has developed its own IP and have a proven methodology. In the last twelve years, the team at RealSilicon has delivered over 20 tape-outs on complex analog designs for with a 100% success rate.
With flexibility and deep expertise, RealSilicon offers assistance to support each and every step of the design process: Product spec, Architecture design, Micro Architecture design (mArch), Analog/IP development (RTL), Physical design (IP integration), Physical design verification (PDV), Graphic design specification (GDS), and Manufacturing (Bring Up). With a team of over 50 analog and 20-25 digital designers and engineers in Bangalore, complemented by onsite support and program managers in the USA, RealSilicon is equipped to handle specialized circuit verification, standard cell library and physical design. The company has worked with all the major foundries and geometries, ranging from 250nm to 14nm.
RealSilicon specializes in two key areas – low power analog and high speed design:

High speed is for large servers and neural networks, where cloud-based applications, big data, and machine learning are being powered by very complex and powerful chips. In high speed design, RealSilicon has demonstrated a 10GHz processor core, including a 10GHz data path, 5GHz Data Cache, and 10GHz Instruction Cache. The company has experience with complex digital chip implementations, including embedded analog & mixed signal designs and integration (LDO, PLL, DLL, SERDES, RF).
Low power is for battery-powered devices (e.g. phones, cameras, Fitbits, etc.) that operate at the edge of the network. RealSilicon's customers bring their existing designs (spec or RTL code), and RealSilicon brings the IP and an advanced methodology required to turn it into a low power solution optimized for Mobile ICs and/or IoT (DVFS and AVS optimized for low power consumption). The company also has patented technology for ultra-low power SRAM.
"RealSilicon powers innovation throughout the entire ecosystem," said GP Singh. "For both high speed and low power, when large organizations have complex problems, they call upon us, because we have a reputation for taking on jobs that many design firms can't handle. The secret to our success is that we focus on the very smallest details. We excel at handling complicated design problems, and have successfully delivered on every project we've tackled."
RealSilicon will be at the Design Automation Conference (DAC), https://dac.com/, June 5-9 in Austin, TX. Recognized as the premier conference for design and automation of electronic systems, the DAC offers outstanding training, education, exhibits, and superb networking opportunities for designers, researchers, tool developers and vendors. To find RealSilicon, please stop by Booth #2220.