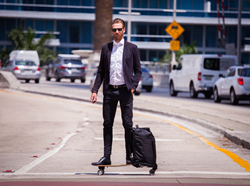 MIAMI, FLORIDA (PRWEB) May 10, 2016
Movpak, the hybrid smart backpack and electric skateboard, is revolutionizing transportation in urban cities, empowering people to move through the world in a more efficient way. Today, the company is announcing new features and a sleeker design that will allow for a safer, quicker, more connected and stylish way for commuters to cruise to their next destination.
Commuters share the same challenges. They often deal with heavy traffic jams if by car, long walks to the train or bus if by public transportation, and of course carrying a bag or purse to store their daily needs. This is why the Movpak is the best solution for the urban commuter. The backpack can carry everything you need for the day, doubling as a personal electric vehicle capable of speeds up to 20 mph, and a range of 10 miles per charge. There are no fumes, no wires and no damage to the environment. Until now, no personal electric vehicle has provided a convenient, eco friendly, portable, and easy to fold solution.
"Large cities can't support cars anymore. There is no space to park, so much time is lost in traffic jams, not to mention the stress and pollution caused by those vehicles," said Ivo Machado, CMO of Movpak. "This problem is only getting worse as the population continues to increase. The only way to solve that problem is to integrate public transportation with personal light electric vehicles, an industry that is expected to be worth $33B by 2026."
Movpak initially launched in 2014 via a crowdfunding campaign that raised more than $60,000. Now, they are releasing new features and functionalities, based on customer demand:

App that wirelessly connects your phone to Movpak
Built in Mic/Speaker so you can talk to it using Siri or Google Now, and even stream via apps like Spotify.
Wireless smartphone charger
Built in Battery Pack via a USB port within Movpak
Built-in tracking capability for security (in case Movpak gets lost or stolen)
Front headlights - ideal for riding in the dark
Tiny remote (almost half the size of the last one)
2 motors inside the wheel. This will make Movpak more powerful and safer than ever before, combined with a beautiful and clean design.
Larger Capacity (between 18-35 liters depending on the model), with new designs and colors. Total weight empty is 17 pounds.
New individualized compartments: Laptop, tablet and others designed for all daily needs.
Ability to remove the backpack from Movpak to use independently.
BY THE NUMBERS…
According to Frost & Sullivan, e-Mobility will be one of the top global mega trends over the next 20 years. There are more than a billion bicycles in the world, twice as many as automobiles, and in recent years bike production has climbed to over 100 million per year (compared to 50 million cars). China and Europe already have more sales in electric bikes than cars, which is why every major brand in the car industry has announced some kind of light electric and/or foldable vehicle and the market for light electric vehicles is almost 4 billion dollars.
EASE OF USE...
The Movpak is easy to ride and wear. One of the newest features allow people to roll the Movpak instead of wearing it, making it a perfect option for inside of buildings and going through hallways. If you are going upstairs or downstairs, it's easy to strap onto your back. Compared with regular bicycles or other portable electric vehicles, it weighs less than half of most of them. If you compare to a foldable electric bike, Movpak is lighter, simpler to fold/unfold and has storage capacity. All the other electric vehicles you have to carry it with one hand while in the other you have a backpack. The average person is able to learn how to ride the Movpak in about 10 minutes.
Pricing and Availability
The Movpak is available online, through Indiegogo. The early bird pricing is $599, for those participating in the campaign. After the campaign, it will be available on http://www.Movpak.com and eventually through official local retailers.
Indiegogo Campaign: https://igg.me/at/movpak
About Movpak
Movpak is an electric skateboard that folds into a backpack, for urban commuters. From the outside, it looks like a normal backpack, with zippers and pockets to carry whatever it is you need, on your back. However on the inside of the backpack, you'll find your portable electric vehicle. By pulling a dedicated handle, the board effortlessly slides out, and using the small remote, you have full control of the speed and braking. To recharge, simply plug the charger into any standard outlet for two hours.
Photos of the Movpak https://www.dropbox.com/sh/iql269xhlfglgxq/AAAIC9U1WWePsNb6osI2UAepa/Exterior?dl=0