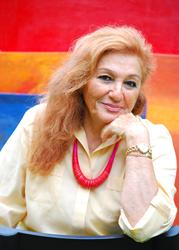 I want the book to depict the sexual turmoil, insecurities and feelings of a young woman brought up in the Middle East
FORT LAUDERDALE, Fla. (PRWEB) May 11, 2016
Julia Chamoun, a young Lebanese woman, is tired of the conservative restrictions on women within her Middle Eastern culture. Desiring to make her fantasies come to life, Julia sets off to break the mold in search for a husband with whom she would lead a passionate life and never suffer boredom.
In her new book, "Of Julia and Men," author Peggy Hinaekian has written an erotic romance novel following a young woman growing up in the Middle East and her love experiences—confronted with taboos about the sexuality of women. Not easily satisfied by societal standards of success and wealth, female protagonist Julia Chamoun explores her sexual freedom as she seeks adventure through various love affairs in Geneva, Switzerland.
She finally finds the man she has been looking for but accidentally runs into an old flame and is torn between her love for the two men with whom she has sexual relationships simultaneously. Julia's exhausting double life continues until an unexpected event complicates her dilemma.
"I want the book to depict the sexual turmoil, insecurities and feelings of a young woman brought up in the Middle East," said Hinaekian. "I have set the book in Egypt of the1950s and Europe of the 1960s to show women's liberation during this era."
In addition to being a writer, author Peggy Hinaekian is an internationally recognized artist with 50 years of experience in exhibiting worldwide in solo and group art shows. "Of Julia and Men" combines literature with art as Hinaekian has woven 26 of her illustrations throughout the book, including the book's cover photo, "Girl on a Flying Carpet."
Beginning in Egypt, "Of Julia and Men" takes twists and turns through Morocco, Europe and the United States. It is a story of love, passion and forgiveness.
For more information, visit http://www.OfJuliaAndMen.com.
Of Julia and Men
By: Peggy Hinaekian
ISBN: 978-1514418727
Available in softcover, hardcover, e-book
Available on Amazon, Barnes & Noble and Xlibris
About the author
Of Armenian origin, Peggy Hinaekian was born and raised in Egypt. She immigrated to New York with her first husband, where she pursued a career in fashion designing and fine arts. Hinaekian is an internationally recognized artist living and working in California, Florida and Switzerland.
**FOR IMMEDIATE RELEASE**
For review copies or interview requests, contact:
Megan Hardesty
317.602.7137
mhardesty(at)bohlsengroup(dot)com