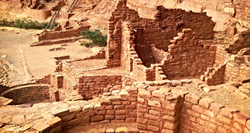 "Even though these pieces take on an aesthetic purpose today, they still use the same level of skill, passion, and culture that were used to create the museum pieces found by Mirea Lauria."
(PRWEB) May 18, 2016
Discovering the remnants of our past is always a thrilling experience. It allows us to understand history from first-hand context; this is especially exciting when you come across a piece that predates the United States by centuries. Mirea Lauria, a Geology student of the Sussex School of Global Studies, unearthed a fragment of early Native American history on her expedition to the Mojave Desert, as part of a school-sponsored field assignment. Her discovery, found in late April, was two finely pointed heads for both a spear and an arrow.
Quickly taking her treasures to some well-qualified experts, a group of researchers from California were able to determine these Native American blades were actually left unfinished, giving the team better insight into early Native American stonework. The experts date the spear and arrowhead between 1400 and 2100 years old. The two head points even got their own happy ending, after being donated to the San Bernardino County Museum for any curious visitor to see a small piece of living history.
To celebrate this reminder of Native Americans and their history, Silvertribe announces the release of a new May collection. This release directly reflects the cultural significance of Lauria's monumental discovery.
"Tradition and art are funny things," said SilverTribe spokesman Chris Anderson, "both seem to be innate in human nature. Even today, this stonework is still honored through beautiful silver and stone setting techniques. These vital skills were taught, re-taught, and even repurposed by the decedents of the tribes that made these weapons centuries ago. Even though these pieces take on an aesthetic purpose today, they still use the same level of skill, passion, and culture that were used to create the museum pieces found by Mirea Lauria."
SilverTribe's reasoning behind this new release is to continue the momentum of cultural awareness that Lauria's discovery has incurred in the public. Native American art isn't just created to be aesthetically pleasing, it achieves something greater. Their legacy continues to inspire, not only from arrowheads, but through intrinsically captivating pottery, and finely cut jewelry as well. The purpose of pottery art is to tell stories and handcrafted Kachina dolls are meant to bring the legend of old deities to life and pay homage to these great spirits. SilverTribe hopes to promote Native American artistry and the community by keeping the public interested in important archeological endeavors like Lauria's story alive and well.
SilverTribe's May collection primarily focuses on arrowheads, pottery, and jewelry to reflect the spirit of Native American story telling and history. SilverTribe.com is proud to support Native American culture and art that inspires the soul and they welcome guests to discover treasures of their own with this new May collection of Native American jewelry and art.