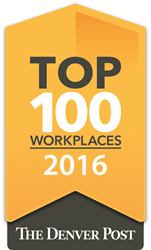 In her cultural essay about BGV, employee Brittany Holloman wrote, "It really is great working for a company who not only cares about their guests, but about their employees, their co-workers, and their community."
Breckenridge, Co (PRWEB) May 11, 2016
For the third consecutive year, Breckenridge Grand Vacations (BGV) has been recognized by The Denver Post as one of The Top 100 Workplaces in Colorado. The Denver Post and Workplace Dynamics partner annually to gather data via in-depth, voluntary surveys from workers across the state, measuring their satisfaction levels with their employers. Companies that rate high enough to make the list are grouped by size: large (500 plus employees), mid-size (150-499 employees) and small (under 150 employees). These results are compiled to create The Top 100 Workplaces Rankings, published each spring in a special edition of The Denver Post.
Since BGV's initial participation in this program, feedback obtained from personnel has resulted in consistently high rankings as a Top Workplace in the mid-size group. "It is very gratifying to Mike and me to know that our employees are happy to be here. The culture that they've helped us create has resulted in more than a business, BGV truly is a family," stated BGV Owner/Developer Mike Dudick. BGV earned the 10th spot in 2014 and 11th place in 2015. This year, BGV came in 12th, ranking above well-known competitors such as Fidelity, New York Life Insurance, Slalom, IKEA and others.
What is it about BGV that has their employees rating them as a Top Workplace every year? BGV offers outstanding benefits packages and also hosts an annual health fair to promote employee health and wellness, at no cost to employees and at discounted rates for their families. Additionally, an employee assistance fund helps fellow personnel in emergency situations, funded through voluntary employee contributions. Charity, both internally and in the community, is a core component of BGV's culture, and employees are provided with frequent opportunities to give back.
BGV values fun and incorporates daily activities in the workplace to foster teamwork and reduce stress. Wellness walks are held regularly when weather permits and meditation sessions are held frequently year round. Regular departmental outings contribute to the closeness among employees, ranging from ski trips to fly fishing and even Rockies games.
Constantly striving to provide the very best service to its timeshare resort owners and guests, BGV provides monthly customer service trainings and rewards top employees at an awards lunch each month. Learn more about what it's like to work at BGV by visiting breckenridgegrandvacations.com.