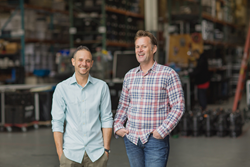 We are honored to share this recognition with our team of talented and devoted artists, engineers, and technicians who daily bring astounding innovations to our clients.
San Francisco, California (PRWEB) May 10, 2016
Recognized for transforming their clever ideas into live experiences, Got Light co-owners and lead designers have been named to the 2016 list of most innovative people in events by BizBash, the leading trade media for event professionals. Holt and Retsky are honored among select visionaries and pacesetters in an industry whose imagination and use of live events continues to fuel connections between people, brands, and causes.
"We are honored to share this recognition with our team of talented and devoted artists, engineers, and technicians who daily bring astounding lighting and audio innovations to our clients," says co-owner Russell Holt. The company Got Light began in 2004 when San Francisco State University graduates Holt and Retsky scraped up a couple hundred dollars to rent lighting equipment to produce their first event for a small nonprofit fundraiser. Today, Got Light's co-owners design over a thousand events a year from intimate gatherings to blowout events like the recent Asian Art Museum's Opening Gala, San Francisco Symphony Chinese New Year Gala, San Francisco City Hall Centennial Celebration, and the upcoming SFMOMA Modern Ball. Co-owner Jon Retsky adds, "We wish to thank BizBash for expanding ideas with cutting edge event style, technology, and tools to the events industry."
"We selected Russell and Jon of Got Light for their unique ability to set trends, drive the use of cutting-edge technology, and challenge old ways of event marketing," said Beth Kormanik, BizBash executive editor. "They are elevating the experience of events and meetings across North America and have us anticipating what they will deliver in the years to come."
The "Event Innovators 2016" feature, which showcases the full list of innovative people and the top 10 innovative brands, can be seen in the BizBash Innovation Digital Issue at http://www.bizbash.com/innovationissue.
# # #
For more information
Beth Kormanik, executive editor of BizBash, is available for comments. For additional information, contact Grazia Mohren at gmohren(at)bizbash(dot)com or 646.839.6896.
About BizBash
In the dynamic live gathering industry, BizBash is the largest media source for both event pros and "hidden planners" with nearly 225,000 monthly users. Live Gatherings serviced by the BizBash suite of products include: exhibitions, conferences and meetings, training and learning, marketing and PR, fund-raising and galas, celebrations and weddings, incentive and travel, and government and ceremonial. Visit http://www.bizbash.com and follow @BizBash on Twitter or http://www.facebook.com/bizbash.
About Got Light: Established in 2004, Got Light is the San Francisco Bay Area's leader in producing artistic lighting and event design, creating dramatic environments with light, audio, video, projection art, video mapping, drape, and staging. Visit Got Light at http://www.got-light.com.