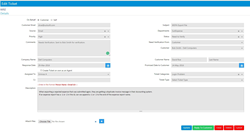 Los Altos, CA (PRWEB) May 10, 2016
SutiSoft Inc., a trusted provider of easy-to-use cloud-based and mobile business management solutions, announces addition of new features to SutiDesk, its online helpdesk platform. The new features allow users to set up a knowledge base that helps share valuable information with your customers and employees.
Overdue tickets:
The application sends automated reports listing the overdue tickets daily.
Daily reports:
The system provides an option for agents to create tickets on behalf of customers. Based on the settings made at the agent level, the system automatically generates and sends daily reports about the submitted tickets.
SMS alerts:
The solution sends SMS alerts to defined mobile numbers when new mail arrives.
Verify tickets:
Users now have an option to request clients to verify whether the issue is closed or not before closing the ticket.
Re-opening closed tickets/updating existing tickets:
Whenever an email with the support ID in the subject line is sent to the email IDs that are configured in the system, it automatically opens closed tickets or updates the existing ones.
For additional product information, please visit http://www.sutisoft.com/sutidesk or call us at 1.650.969-7884, e-mail: media(at)sutisoft(dot)com.
About SutiSoft
Sutisoft provides a comprehensive suite of cloud-based business platforms and solutions for companies of all sizes. These platforms include scalable and easy-to-use solutions for HR, Employee Travel & Expense, Wireless Spend Management, CRM, Document Management, Business Data Analytics, and Electronic signature. Our platforms and solutions enable small, mid-size, and large enterprise customers to control costs, save time and assist in making smart business decisions. Headquartered in Los Altos, California, SutiSoft also has regional offices in Germany, India, and Japan. For additional information visit our website at http://www.sutisoft.com.