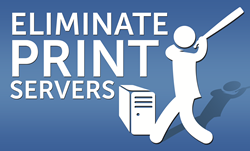 We've been helping businesses eliminate their print servers for nearly a decade
St. George, Utah (PRWEB) May 11, 2016
PrinterLogic, the leading Enterprise Print Management solution that enables businesses to eliminate print servers, today announced the latest version of its Printer Installer platform to help organizations of all sizes optimize their existing printers and securely expand print management to others in their organization, all while empowering them to cut printing costs.
"We've been helping businesses eliminate their print servers for nearly a decade, and we're continuously evolving to ensure IT has what they need to provide the most innovative printing services to their organization," said Andrew Miller, Vice President of Marketing at PrinterLogic. "With today's release we are significantly enhancing the capabilities of our customers' existing printers, while also introducing new ways for companies to empower their entire IT organization with PrinterLogic's capabilities through role-based access control. And our new print job costing and auditing tools provide the data businesses need to dramatically reduce their print costs."
PrinterLogic's Enterprise Print Management solution has helped thousands of organizations completely eliminate their print servers, deliver centrally managed direct IP printing and empower end users to install their own printers. These organizations also utilize PrinterLogic's Pull Printing and Mobile Printing modules to increase security, reduce waste and increase end user efficiency. The comprehensive print management solutions solves a major pain point for IT, while reducing cost and complexity. The updated version of Printer Installer is available today and delivers a host of new features.
Optimizing Your Existing Printers
Many print management solutions make big promises, only to disappoint when organizations discover that most of the features only work on newer printers or limited models. Nobody wants to upgrade their entire fleet of printers just so they can benefit from their print management solution. PrinterLogic has always supported existing network printers - and now it provides:
Expanded Embedded Control Panel Support – The new version of Printer Installer expands the list of supported embedded control panels from major printer manufacturers.
Single Sign-On – Single sign-on unlocks both the printer's control panel and the PrinterLogic release portal, simplifying the authentication process for the end user.
Enhanced Pull Printing – PrinterLogic further enhances Pull Printing to network printers without embedded control panels through Simple Badge Release by associating network-enabled badge readers with any network printer. Pull Printing support extends across Mac, Windows and Linux environments.
Expand Print Management with Role-Based Access Control
When an organization deploys a powerful print management solution like PrinterLogic, they typically want to empower their entire IT organization to utilize its features. But in an enterprise, they may not want everyone to have the same access to the admin console. With new role-based access control from PrinterLogic, businesses can take advantage of:
Expanded Management Capabilities – IT admins can securely expand management capabilities to others in their organization.
Customized Role-Based Access – Organizations can use pre-defined roles to provide admin functions that match IT roles, or they can customize and create their own roles.
Role-Based Access By Location – Take role-based access a step further by enabling organizations to limit not only what different roles can do, but what effective rights the IT user has for specific groups of printers or locations. Roles can be assigned to Active Directory groups or users.
Drive Down Print Job Costs
PrinterLogic's print auditing and reporting features have always given enterprises deep visibility into their print environment. The new version expands that functionality, empowering organizations with:
Print Job Costing – By associating costs with different print scenarios, PrinterLogic enables businesses to identify print trends and their effects on consumables and cost.
Automated Reports – The new PrinterLogic provides automated reports to share with department heads, IT managers, and executives and educate the organization on printing cost and usage.
Reduce Print Costs – Print job costing and automated reports provide the data businesses need to shape new printing policies, create efficient printer profiles and reduce costs throughout their organization.
"Too often, new product announcements don't adequately support the equipment you already have, or introduce significant new costs to take advantage of key features," said Devin Anderson, VP of Product at PrinterLogic. "The new version of Printer Installer and the optimized Pull Printing module is designed to optimize your existing printers, expand your print management and reduce your printing costs, right away."
Pricing and Availability
Beginning today, the new PrinterLogic is available to all existing and new users. There are no price changes or new SKUs.
Role-based access control is available immediately to all users.
To benefit from the embedded control panel and badge release functionality, users can simply select the PrinterLogic Pull Printing module.
To benefit from the print job costing functionality, users can simply select the PrinterLogic Professional edition.
To find a certified partner, please contact your PrinterLogic sales representative or send an email to channels@printerlogic.com. For more information on PrinterLogic or to start a free trial, contact us here.
About PrinterLogic
PrinterLogic is the world's leading Enterprise Print Management solution for server-less remote site printer deployments. With more than 1,500 customers in over 120 countries, PrinterLogic enables organizations of all sizes to eliminate print servers. PrinterLogic's single integrated printer management platform is an on-premises web application that simplifies the management, migration, and deployment of printers while drastically reducing cost. For more information, or for a free trial, please visit http://www.printerlogic.com. Questions? Watch our video or connect with us on Twitter at @PrinterLogic or follow us on Facebook, LinkedIn, YouTube, Instagram and Google+.