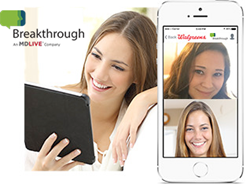 Teletherapy is an excellent option if you're looking for a more convenient, private, and affordable way to receive behavioral therapy," said Randy Parker, founder and chief executive officer of MDLIVE
Sunrise, FL (PRWEB) May 10, 2016
MDLIVE, the nation's leader in the rapidly growing virtual health market, today announced a further expansion of its collaboration with Walgreens. The agreement adds access to behavioral health services provided by Breakthrough, an MDLIVE company.
Breakthrough Behavioral counseling services without prescriptions are available in all 50 states and Washington, D.C. In addition, behavioral health prescribing services will be available in 20 states including Arizona, California, Colorado, District of Columbia, Florida, Hawaii, Iowa, Kentucky, Louisiana, Massachusetts, Maryland, Michigan, Nebraska, New Hampshire, New Mexico, New York, Oklahoma, Oregon, Texas and Virginia.
MDLIVE's telehealth medical services have also expanded to 13 additional states, including Arkansas, Hawaii, Kentucky, Maine, Massachusetts, Missouri, Nebraska, New Hampshire, Rhode Island, South Dakota, Utah, West Virginia, and Wyoming. This enables MDLIVE to offer these services via Walgreens digital properties in 37 states, as well as Washington, D.C.
Through Walgreens, MDLIVE offers 24/7 access to board-certified, primary-care doctors and pediatricians via online video, mobile app, or phone. With MDLIVE's HIPAA-compliant cloud-based Virtual Medical Office platform, consumers have a more convenient way to see a doctor for non-emergency health issues—anywhere, and anytime—whether at home, at work, or while traveling. With the addition of Breakthrough, an MDLIVE company, Walgreens consumers will now also have access to more than 1,000 licensed therapists nationwide to schedule secure video sessions by appointment. The collaboration between MDLIVE and Walgreens first launched in December 2014.
Teletherapy, the delivery of web- and mobile-based sessions between a patient and licensed mental health provider via video, is one of the fastest growing sectors of the virtual healthcare market. A 2013 study conducted by clinical researchers from the University of Zurich, determined that patients who received psychotherapy for depression via the Internet had outcomes that were just as good, if not better, than the same number of patients receiving conventional face-to-face therapy (53% vs 50%). In addition, 95% of those patients who received telehealth services were satisfied with their experience, versus 91% of patients who received conventional treatment. Both groups of patients in the study described their visits with their therapists as "personal."†
"Teletherapy is an excellent option if you're looking for a more convenient, private, and affordable way to receive behavioral therapy," said Randy Parker, founder and chief executive officer of MDLIVE. "Through our relationship with Walgreens, we are making it easier for consumers to get help by providing the flexibility to schedule therapy at a time that works best for them, and without the need for travel time, waiting rooms, or office visits."
Walgreens customers can access MDLIVE medical services through the Walgreens mobile app or website. The cost per visit for medical conditions is $49.
Breakthrough Behavioral Services can be accessed from the Walgreens website, or the Breakthrough mobile app, which is available for download on iOS and Android. Users will need to set up a free account, and then can begin to browse therapists and schedule a video consult with the therapist of their choice. The cost per visit is based on the therapist selected, however, Breakthrough accepts most insurance plans. ePrescription services may be available from individual subscribers listed on the Breakthrough marketplace.
"Access to providers and care is one of the biggest challenges for our mental health system today, and we're pleased to work with MDLIVE to help meet this need as part of the Walgreens mental health platform," said Adam Pellegrini, Walgreens divisional vice president of digital health.
MDLIVE is able to treat a wide range on non-emergency conditions, including:
Medical conditions

Acne
Allergies
Cold / Flu
Constipation
Cough
Diarrhea
Ear problems
Fever
Headache
Insect bites
Nausea / Vomiting
Pink eye
Rash
Respiratory problems
Sore throats
Urinary problems / UTI
Vaginitis
And more
Behavioral health concerns

Addictions
Bipolar disorders
Child and adolescent issues
Depression
Eating disorders
Gay/Lesbian/Bisexual/Transgender issues
Grief and loss
Life changes
Men's issues
Panic disorders
Parenting issues
Postpartum depression
Relationship and marriage issues
Stress
Trauma and PTSD
Women's issues
And more
About MDLIVE
Founded in 2009, MDLIVE is a visionary and pioneer in the digital delivery of high-quality, convenient, cost-efficient care. The company provides consumers, health plans, health systems and self-insured employers with 24/7/365 access to board-certified doctors and pediatricians via secure online video, phone or the MDLIVE App. Instead of the inconvenience and expense of ER or urgent care visits for non-emergency issues, registered users can receive a virtual consultation through the company's HIPAA and PHI-compliant secure, cloud-based platform from home or on the go, and if necessary, obtain an e-prescription. Through Breakthrough, the company's behavioral health service, MDLIVE enables consumers to schedule video appointments with licensed therapists. To learn more about how MDLIVE is using telehealth innovations to improve the delivery of healthcare, visit http://www.MDLIVE.com.
###
†Birgit Wagner, Andrea B. Horn, Andreas Maercker. Internet-based versus face-to-face cognitive-behavioral intervention for depression: A randomized controlled non-inferiority trial. Journal of Affective Disorders. July 23, 2013. Doi:10.1016/j.jad.2013.06.032
Media Contact:
Michael E. Donner
MDLIVE
+1 (949) 415 8004
mdonner(at)mdlive.com