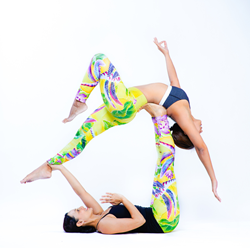 Research has revealed that having fun and beautiful active wear inspires women to enjoy their workouts and train more often. Therefore, Fit Rebel has created a line of beautiful, high performance leggings, designed to get you moving!
Kuala Lumpur (PRWEB) May 11, 2016
Imagine having workout clothes that are fun and beautiful pieces of wearable art, featuring hand painted designs by artists from Southeast Asia. Seni, a new line of active wear by Fit Rebel is embracing this concept. It features modern designs created using the batik painting technique, a traditional art form, on high performance leggings.
Research by Fit Rebel has revealed that having fun and beautiful active wear inspires women to enjoy their workouts and train more often. As an advocate for fitness and healthy lifestyles, founder of Fit Rebel, Nadia Hasbi was motivated by this and set out to create a line of beautiful leggings that will motivate women to be more active.
In the efforts to develop creative and stunning designs, Hasbi gravitated towards art. Taking inspiration from her Malaysian roots, she turned to batik. Batik is a traditional art form which uses wax and fabric dye to create designs on cloth. Combining this technique of painting to produce modern designs for trendy leggings was unique, and a new line named Seni was born, which means 'art' in the Malay language.
The designs featured on Seni leggings were created through a collaboration between the batik artists and the Fit Rebel team. Together, they developed five nature inspired designs that looked stunning on the leggings and flatter a woman's body. The artists that worked on this project belong to a local community, part of the Malaysian Craft Development Corporation with over 35 years of experience.
"Batik is a beautiful Malaysian cultural heritage that must be preserved and shared. By incorporating this traditional art into gorgeous designs and placing them on leggings, this art form can be introduced and appreciated by new audiences around the world" said senior batik artist, Lazim Ismail.
The designs are vibrant and catchy, due to which these leggings can easily double up as casual wear. With the right shoes and accessories, they can also be glammed up for a night out with girl pals!
To ensure that the leggings can withstand the impact and movement of high performance activities, they have been tested on women performing a wide range of active pursuits, such as cross fit, martial arts, running, dance and yoga. To guarantee comfort, the fabric is a blend of the ever deliciously smooth and durable Lycra (Spandex).
Early birds will be able to purchase these leggings at a special price of only USD39.00 per pair. Fit Rebel is currently taking pre-orders via their Indiegogo campaign here: https://igg.me/at/senibyfitrebel.
Fit Rebel hopes to collaborate with a variety of regional artists to showcase different types of art, ranging from traditional to modern. The goal is to support such communities and allow them to showcase their art to the world with active wear as their canvas.
Overall, women who incorporate Seni's high performance leggings into their active lifestyles are guaranteed to both look and feel great, while working out or having fun. All while supporting a community of regional artists.