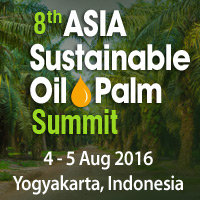 In light of Indonesia's clamp down on new permits for palm oil plantation, how will Indonesia maintain its competitiveness while maintaining sustainability?
Yogjakarta, Indonesia (PRWEB) June 21, 2016
CMT brings you the 8th ASIA Sustainable Oil Palm Summit, where current issues grappling the palm oil industry will be discussed by palm oil producers, traders, consultants and researchers.
Palm oil is the world's most widely used vegetable oil, found in food, cosmetics, detergents and biodiesel. Over 90% of the world's palm production takes place in Southeast Asia.
With global consumption of palm oil increasing at a rapid rate, farmers are using up more and more forestland to keep up with demand, and contributing to tropical deforestation and peatland destruction. Fires often started to clear land for oil palm plantations release greenhouse gas emissions and impacts global climate change.
Since land is getting scarce, palm oil production needs to be about improving output – for example by planting high-yield crops – without destroying forests and peatland.
The 8th ASIA Sustainable Oil Palm Summit will cover the groundbreaking sustainability measures being taken in the region including:

Indonesia is proposing a ban on new oil palm concessions to lessen the sector's impact on the environment. The ban will help to increase the adoption of sustainable practices and force farmers to source for quality seeds and fertilisers and to improve their farming skills.
Malaysia Palm Oil Board (MPOB) will share their research on improving palm oil production yield, by checking the integrity of the seeds before planting begins on a large scale. Instead of acquiring more land, the focus will on boosting the productivity of crops, which could be doubled with better seeds.
Indonesia's Peatland Restoration Agency (PRA) has been tasked to restore about 2 million hectares of carbon-rich peatland damaged by fires last year.
Plantations are now using drones to monitor progress and increase efficiency in high-yield palm oil production, while the development of software tools can help small holders increase their yield.
Pest control, such as Red Palm Weevel infestation remains a concern. And although bud rot disease is more extensively prevalent in Latin America, the threat of it coming to Asia is real. The disease would be even more fatal in Malaysia and Indonesia, and has the ability to destroy the palm oil industry in the region.
The Indonesian Palm Oil Pledge (IPOP) is a partnership of the large palm oil companies that control the bulk of Indonesian palm oil refining, who have promised to eliminate deforestation, peatlands conversion and human rights abuse from their supply chains. Under the IPOP, Palm oil companies will be encouraged to share their expertise and provide assistance to small farmers to increase their palm oil yield and ensure a sustainable livelihood.
Speakers at the 8th ASIA Sustainable Oil Palm Summit, 4-5 Aug, 2016 – Yogyakarta are:

Agus Purnomo, Managing Director, Sustainability and Strategic Stakeholder Engagement, Golden Agri International Pte Ltd ("GAR")
Dr. Alue Dohong, Deputy of Construction, Operations, and Maintenance, Peatland Restoration Agency
Prof. Dr. Bambang Hero Saharjo, Bogor Agricultural University
David Ng, Derivatives Products Specialist, Philip Futures Sdn Bhd
Dr. Agus Santoso, Adjunct Science Leader, CSIRO
Keeyen Pang, Director of Asia Operations, Conservation Drones
Rajinder Singh, Principal Research Officer/ Group Leader - Genomics Research, Malaysian Palm Oil Board (MPOB)
Dr. Indra Syahputra, Head of Socfindo Seed Production & Labs, PT Socfindo
Nurdiana Darus, Executive Director, Indonesia Palm Oil Pledge
Pierre Courtemanche, CEO, GeoTraceability Ltd
Jagdish Parihar, Managing Director & Chief Risk & Compliance Officer, Olam International Limited
Dr. Sudjoko Harsono Adi, Director of Bioenergy, Ministry of Energy and Mineral Resources (MEMR)
Jeroen Nanninga, Country Manager - Indonesia, Westpac Banking Corporation
Dr. Ainie Kuntom, Senior Research Fellow, Product Devt & Technical Advisory Services, Malaysian Palm Oil Board (MPOB)
Dr. Wahizatul Afzan Azmi, Scientist -Entomology - Red Palm Weevil Research Grp, Universiti Malaysia Terengganu
Dr. Gabriel Andrés Torres, Plant Pathology, Cenipalma - Centro de investigación en Palma de Aceite
Stephen Lim, Chief Operating Officer, Global Green Synergy Sdn. Bhd
Email hafizah(at)cmtsp(dot)com.sg or visit event website for more details.