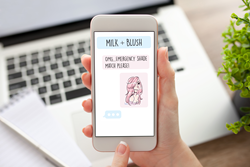 WhatsApp is such a great way for shoppers of hair extensions to get the perfect shade match for their hair.
California (PRWEB) May 12, 2016
Almost a year since online hair extensions retailer Milk and Blush announced their name change and introduced several new beauty lines to their extensive range of hair extensions and hair care, the company continues to grow in popularity. Milk and Blush are now reaching and communicating with their much loved and valued shoppers in new ways. Instant messaging app WhatsApp has now become available for businesses to use and Milk and Blush are one of the first companies of its kind to include WhatsApp as an option for their shoppers to receive a higher level of service.
Milk and Blush, specialists in clip in hair extensions made with 100% Remy Human Hair, are already widely respected and known for their outstanding customer support and have always offered a free shade matching service. To use the Milk and Blush shade matching service, shoppers can email a picture of their own hair so that the team of dedicated experts can offer suggestions on what shade of clip in hair extensions will best match. Now, to help with shade matching, Milk and Blush shoppers can also use the new WhatsApp service. Shoppers who register by saving the Milk and Blush number to their contacts only have to send 'HAIR' to that number on WhatsApp and they can use the instant messaging service for shade matches or advice from the customer support team. There is also an option of signing up to receive exclusive access to Milk and Blush news and discount codes.
Milk and Blush say that they are excited to let their shoppers know that those who join the WhatsApp conversation will be the very first to receive news on offers, discounts and sales plus they will be the first to know when a new Milk and Blush article or tutorial is released as they will receive a WhatsApp message with a link to all the gossip on the Milk and Blush blog.
The Milk and Blush customer support team say that many shoppers, when they first hear about the service, had slight concerns that their contact details would be visible to others using the service but Milk and Blush want their shoppers to know that the M+B WhatsApp does not share their contact details; it isn't a group chat so communications sent on WhatsApp are only visible to our customer support team and it's easy to unsubscribe at any time.
It has been an exciting year for Milk and Blush, with the company always evolving by adding new lines, producing useful content and now with new ways to reach shoppers they will continue to provide luxury clip in hair extensions and reach more and more hair and beauty obsessed followers around the world.