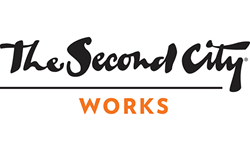 Chicago, Illinois (PRWEB) May 10, 2016
Second City Works, the B2B arm of the world-renowned theatre company, The Second City, is pleased to announce the hiring of Marilyn Cox, Peter Shaheen, Teri Robshaw and Drew Muir for the company's expanding operations and new markets in New York, San Francisco and Washington, D.C., led by Doug Hutton, Vice President of Operations at Second City Works.
"We are very excited to have Marilyn, Peter, Teri and Drew join Second City Works to meet the demand of our existing business in these markets and continue to grow and expand new client relationships, building on the 600+ companies already using our improv skills & techniques to make their work better," said Doug Hutton. "The demand for our services in the business world continues to grow and we're thrilled to add these individuals with exceptional backgrounds to our talented team."
Marilyn Cox joins Second City Works as the Director of Marketing and will lead all aspects of marketing, marketing communications, and sales enablement. She has been recognized as one of "20 Women to Watch in Sales Lead Management" in 2015, was recently named as one of the "Top 30 Most Influential Women in Marketing Technology," and most recently led Oracle Marketing Cloud's Industry Center of Excellence.
Peter Shaheen will take on the role as Managing Director, Sales in New York to engage Second City Works' existing customers and expand the brand and client-base in the New York metro area. Prior to Second City Works, Peter held sales and marketing roles at Workday and SAP, nurturing and growing some of both firms' largest accounts.
Teri Robshaw will serve as Managing Director, Sales for Washington, D.C. where she will share how the lessons of improvisation can enhance organizational culture and growth with clients on the East Coast. She previously worked at CEB Inc., the world's largest member advisory firm for 13 years where she supported C-level executives across sales, marketing, market insights and communications, in addition to leading Marketing for CEB's Legal & Compliance and Government practices.
Prior to joining Second City Works, Drew Muir spent nine years at CEB Inc., where he managed the implementation of sales effectiveness and talent development projects with Fortune 500 organizations, growing some of CEB's largest commercial relationships in the process. Drew will act as Managing Director in San Francisco where he will lead Second City Works' West Coast client development and partnership efforts.
"We are constantly co-creating with our clients to apply improv-based solutions to their thorniest business challenges. With this expansion into New York, Washington, D.C. and San Francisco, Second City Works is showing that the power of our methods and products have spanned above and beyond our roots in Chicago," added Hutton. "Adding new colleagues like Marilyn, Peter, Teri and Drew with such sterling backgrounds validates that talent – and businesses – are looking to get in on the act, just like our audiences have been for 55+ years."
For more information on Second City Works and improv-based business solutions, please visit http://www.SecondCityWorks.com.
About Second City Works
Second City Works (SCW) is the B2B arm of the world-renowned theater, The Second City. SCW brings the skills of improvisation and the authenticity of humor to over 600 organizations each year through events, workshops, and digital content. With expertise in audience dynamics, ensemble building, co-creation, and agility, Second City Works' mission is to create a more empowered, creative, and collaborative business culture worldwide.
About The Second City
Beginning as a small cabaret theater on Chicago's north side in 1959, The Second City has grown to become a comedy empire, building a robust $55 million business based on its core improvisational methodologies. Resident theaters in Chicago and Toronto create topical sketch comedy revues that satirize politics, culture and news of the day. Additionally, Second City performs thousands of shows each year in regional theaters, colleges and performing arts centers. Beyond its stages, The Second City created the foremost school of improvisation-based arts in the world with training facilities in Chicago, Toronto and Los Angeles that currently enrolls more than 11,000 students annually. The Second City also has a business division that works with hundreds of Fortune 500 companies in the areas of training, marketing, entertainment and brand services, and The Second City's forays into television and new media continues to produce new content and programming, including the classic, Emmy Award-winning comedy series SCTV.