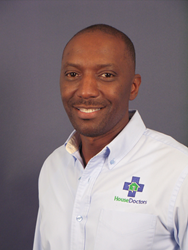 Atlanta, GA (PRWEB) May 10, 2016
Theodore Lundy is proud to announce the launch of his new business, House Doctors of Northwest Atlanta.
House Doctors of Northwest Atlanta offers professional handyman services in Cobb, Fulton and DeKalb counties, including Smyrna, Dunwoody, Perimeter, Sandy Springs, Buckhead, Roswell, Marietta, Vining and Atlanta as well as the surrounding areas. The team at House Doctors is focused on professionalism, service excellence and quality workmanship. Their goal is to make home improvements easier for their customers by being on time, doing the job right and offering a one year workmanship guarantee.
"House Doctors is more than a handyman service – it's a local, family business dedicated to making your home a better place. Whether you call us for a small repair or a major renovation, I will personally ensure that you're receiving top-notch service and a customer service experience you want to tell your friends and family about. I am dedicated to building a sustainable community business by creating satisfied customers," Lundy said.
House Doctors' experienced, insured, background checked and uniformed handymen technicians specialize in projects that take two hours to two days to complete, such as light remodeling and repairs of decks, doors, bathrooms and kitchens; repairing drywall; painting; exterior repairs; making home modifications and much more.
Prior to opening the business, Lundy worked for Starbucks for 15 years. Although he enjoyed the work and learned a great deal about customer service and business management, he felt it was time for change for himself and for his family.
"I always wanted to go into business for myself and do something that affords me the opportunity to work directly with people and to make a difference in the lives of families in my community. We looked at 20 or 25 franchises before deciding to open House Doctors. We felt like, with my experience in customer service and passion for business, House Doctors was the best fit for us and for our region," Lundy said.
To learn more about House Doctors of Northwest Atlanta and to schedule services for your home, call (404)334-0781, email HD538(at)HouseDoctors(dot)com or http://housedoctors.com/handyman-northwest-atlanta.
About House Doctors
House Doctors Handyman Service has been helping homeowners across the United States with home repair and light remodeling projects for more than 20 years. Our friendly, insured and bonded craftsmen are scheduled to be there on time and are committed to complete customer satisfaction. Each of our technicians are experienced in home maintenance, product installations and a variety of home improvements. We're so confident in our team and products that every job we perform comes with a one-year guarantee.