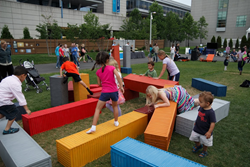 Each sculpture has been quality tested by my own six-year-old.
Boston, MA (PRWEB) May 19, 2016
Boston Children's Museum will open a new gallery exhibit, "Emerald City" a multi-media sculpture and video installation by local artist Kelly Goff on Saturday, May 21.
Emerald City is a collection of new work by Goff that explores our relationship with natural and synthetic habitats. Goff presents three unique, life-sized tree forms, including a 6-foot hollow log constructed from thousands of individual pieces of scrap wood, three facsimiles of a large tree stump cast in concrete, and a suspended, 25-foot paper cast of a fallen cedar tree. Within these forms exist light, projected imagery, and a live video feed.
"The multimedia sculptural work Kelly Goff has created for his exhibit invites the audience into this fantastical magical land where anything is possible," said Alice Vogler, Arts Program Manager.
Kelly Goff is a sculptor who reimagines and rehabilitates commonplace objects, especially those that exist amid the conflict between our natural and constructed worlds. Raised on the island of Curaçao, a stone's throw from the transparent Caribbean Sea, an oil refinery, and one of the busiest dry-docks in the Caribbean, Goff is deeply influenced by the tension produced as we consume, reengineer, and discard the world that nourishes us. His work is often an attempt to elevate the marginalized or remedy symptoms of this conflict, even if daunted by the cause.
"In conceiving this exhibition for Boston Children's Museum, I was excited by the task of creating new work that could both engage the sense of wonder I admire so much in children while challenging families to consider our place in the natural world," said Goff. "Each sculpture has been quality tested by my own six-year-old."
Goff received an MFA in Sculpture from the Rhode Island School of Design and is a recent recipient of an Artist Fellowship from the Massachusetts Cultural Council. He teaches sculpture at Wheaton College in Norton, MA and has recently completed residencies and research excursions in the remote Alaskan wilderness and the Amazonian rainforest in Ecuador. He resides in Norton, MA.
The installation is scheduled to run May 21 – July 17, 2016.
For additional information, please visit http://www.BostonChildrensMuseum.org.
About Boston Children's Museum
Boston Children's Museum engages children and families in joyful discovery experiences that instill an appreciation of our world, develop foundational skills, and spark a lifelong love of learning. More information about Boston Children's Museum can be found at http://www.BostonChildrensMuseum.org. Become a fan of the Museum on Facebook and follow us on Twitter
Hours and Admission
The Museum is open daily from 10:00 a.m. – 5:00 p.m. Fridays until 9:00 p.m. Adults, $16, children (1-15) and senior citizens, $16; children under 12 months and Museum members are always free. Fridays 5:00 p.m. – 9:00 p.m., all visitors $1.
###
Media Contact:
Jo-Anne Baxter
617-986-3702
Baxter(at)BostonChildrensMuseum(dot)org