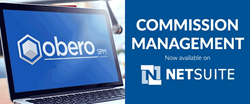 "Offering NetSuite customers the ability to automate compensation management, as well as quota and territory management processes means better sales performance, fewer manual tasks and improved compliance." Andil Houlder, VP Channel Partners at Obero
Toronto, Canada (PRWEB) May 11, 2016
Obero announced today that its Obero SPM SuiteApp has achieved the 'Built for NetSuite' status. The new SuiteApp, built using NetSuite's SuiteCloud Computing Platform, provides customers the required tools to effectively manage incentive compensation and sales performance.
Built for NetSuite is a program for NetSuite SuiteCloud Developer Network (SDN) partners that provides them with information, resources and a method to verify that their applications and integrations, built using the NetSuite SuiteCloud Computing Platform, meet NetSuite's standards and best practices. The Built for NetSuite program is designed to give NetSuite customers additional confidence that SuiteApps have been built to meet these standards
"We are incredibly excited to offer our Incentive Compensation Management solution on the NetSuite SuiteApp.com Marketplace," said Andil Houlder, VP Channel Partners at Obero. "Offering NetSuite customers the ability to automate compensation management, as well as quota and territory management processes means better sales performance, fewer manual tasks and improved compliance."
Obero SPM helps organizations streamline their sales planning, execution and optimization processes. Its comprehensive functionality, which includes Sales and Revenue Management, Territory and Quota Management, Workforce Management, Incentive Compensation Management and Profitability Management, provides organizations with a solution that supports the end to end sales performance life cycle; automating processes for the Offices of Sales, HR and Finance.
Key benefits provided by the Obero SPM SuiteApp include:

Increased sales effectiveness by aligning incentive compensation design with overall sales strategy.
Decreased administrative and over-payment costs by automating the end to end process.
Increased sales productivity by reducing unproductive "shadow accounting" time through enhanced transparency.
For information about Built for NetSuite SuiteApps, please visit http://www.netsuite.com/BuiltforNetSuite. For more information about the integrated solution, please visit http://www.suiteapp.com. To learn more about Obero SPM, please visit http://www.oberospm.com
About SuiteCloud
NetSuite's SuiteCloud is a comprehensive offering of cloud-based products, development tools and services designed to help customers and commercial software developers take advantage of the significant economic benefits of cloud computing. Based on NetSuite, the industry's leading provider of cloud-based financials / ERP software suites, SuiteCloud enables customers to run their core business operations in the cloud, and software developers to target new markets quickly with newly-created mission-critical applications built on top of mature and proven business processes.
The SuiteCloud Developer Network (SDN) is a comprehensive developer program for independent software vendors (ISVs) who build apps for SuiteCloud. All available SuiteApps are listed on SuiteApp.com, a single-source online marketplace where NetSuite customers can find applications to meet specific business process or industry-specific needs. For more information on SuiteCloud and the SDN program, please visit http://www.netsuite.com/developers.
About Obero
Obero is a privately held global company with offices in the United States, Canada and Europe. Developer and provider of Obero SPM, cloud-based Sales Performance Management solution which supports the entire end to end sales life cycle; automating processes for the office of Sales, Finance and HR. Obero SPM integrates the Sales Planning and Forecasting, Incentive Compensation Management and Sales Profitability Management processes in a single unified application. Obero has been ranked as one of Canada's top technology companies; included in the Top 10 Growth, Top 25 Up and Coming, and Top 250 Canadian ICT categories in the 2014 and 2015 edition of Branham 300. Obero SPM has recently been recognized as Top 20 Corporate Finance Technology Solutions by CIO Review and as a Momentum Company of the Year by Techconnex.
NOTE: NetSuite, the NetSuite logo and Built for NetSuite are service-marks or trademarks of NetSuite Inc. Third-party trademarks mentioned are the property of their respective owners.