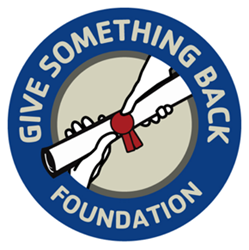 Princeton, NJ, (PRWEB) May 11, 2016
More than 170 9th graders from high schools in Delaware, New Jersey and Illinois have been awarded full scholarships by the Give Something Back Foundation (GSBF), a nonprofit organization that provides mentors and scholarships to help Pell Grant-eligible kids go to college and graduate in four years debt free.
The scholarship recipients have the choice of attending one of GSBF's partner colleges in their home state where they will be provided tuition, room and board for four years.
Each student completed the GSBF application process, which included attending a family information meeting, completing a College Cost Estimator as well as an extensive online application, obtaining school and community recommendations, and participating in in-person interviews in order to be eligible for the scholarship.
GSBF was established through the generosity of Bob Carr, founder of Princeton, NJ-based Heartland Payment Systems. Carr received a $250 scholarship grant from the Lockport Woman's Club in Illinois in 1963 when he was accepted as a student at the University of Illinois, and he vowed someday he would "give back" when he was able. His foundation partners with high schools and colleges in Illinois, New Jersey, Delaware and Pennsylvania. The program has provided scholarships and mentoring for hundreds of students.
Students must maintain a B average throughout high school, participate in a mentoring program, and attend GSBF-sponsored workshops to continue in the program. As seniors, students must complete the FAFSA and be accepted into one of GSBF's partner colleges. GSBF is very excited to provide this opportunity and is working to expand its college partnerships and opportunities for students. 
GSBF is currently recruiting volunteer mentors for its 9th graders. If interested visit https://www.givesomethingbackfoundation.org/mentors/. For more information about GSBF visit givesomethingbackfoundation.org or email info(at)givesomethingbackfoundation(dot)org.
About Give Something Back Foundation
GSBF works with high school administrators and community leaders to select ninth graders who show academic promise and whose family income level qualifies them to receive a Federal Pell Grant.
The goal of GSBF is to help students who may not have considered college an achievable option to get the guidance they need to complete a college degree in four years, debt free.
GSBF pairs selected students with trained adult mentors who support the students through the challenges of high school years at home and in the classroom, thus preparing them for the rigors of a four-year college education. Mentors help students navigate the process of college admissions and GSBF provides its high school graduates with a scholarship for tuition, room and board at one of its partner universities and colleges.