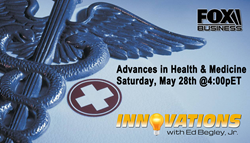 Jupiter, FL—
(PRWEB) May 23, 2016 -- DMG Productions announced today the upcoming airing of Innovations with Ed Begley, Jr., scheduled to broadcast on Saturday, May 28, 2016 at 4:00pET via Fox Business.
The show will explore Ennaid Therapeutics, a biopharmaceutical company creating disruptive innovation to safely and rapidly develop cures for mosquito-borne, emerging infectious diseases. Viewers will learn about the company's development of first-to-market, proprietary therapeutics for the 400 million people worldwide who contract—and the 3 billion people at risk of contracting—dengue virus, the world's fastest growing pandemic.
It will also go behind the scenes to learn about FlowMetric, Inc., a leading provider of flow cytometry and cell sorting services. The show will teach about FlowMetric's ability to provide state-of-the-art flow cytometry techniques that combine proprietary assays with advanced analytics to support all stages of drug development including pre-clinical, non-clinical and clinical development.
In addition, Innovations will also showcase SleepSafe Drivers, a company that provides people in risk sensitive positions (or with challenging work schedules) with a complete cost effective program for sleep apnea and fatigue management. Audiences will learn about the risks associated with fatigued driving and how the program allows for easy diagnosis and treatment for sleep apnea in a confidential, convenient, and cost effective manner.
"These advancements are changing the way we live," said Michele Nehls, Producer for the series. "We look forward to educating and enlightening on these amazing breakthroughs."
About Innovations & DMG Productions:
Innovations, hosted by award winning actor Ed Begley, Jr., is an information-based series geared toward educating the public on the latest breakthroughs in all areas of society. Featuring practical solutions and important issues facing consumers and professionals alike, Innovations focuses on cutting-edge advancements in everything from health and wellness to global business, renewable energy, and more.
DMG Productions (responsible for creating the Innovations show) includes personnel specialized in various fields from agriculture to medicine, independent films to regional news and more. Our field producers work closely with experts in the field to develop stories. This powerful force enables us to consistently produce commercial-free, educational programming that both viewers and networks depend on.
For more information visit: http://www.InnovationsTelevision.com or contact Michele Nehls at: (866) 496-4065 x 822 or via email at: Michele(at)innovationstelevision(dot)com.