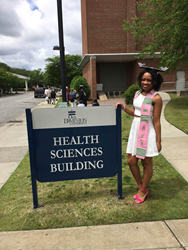 99% of Horizons students graduate from high school, and 91% go on to college.
Virginia Beach, Virginia (PRWEB) May 11, 2016
On Thursday, May 12, Horizons Hampton Roads is joining a friendly competition across the country, the 2nd Annual Horizons Giving Day. With a goal of raising $1 million in one day to expand educational programs and bring services to more communities and families, participating programs nationwide will partner with local businesses, schools, and volunteers in a race to raise money and promote awareness through social media.
Horizons Hampton Roads delivers community‐centered educational programs in an effort to close the opportunity gap and the achievement gap for low‐income children in Kindergarten through 8th grade in Norfolk, Portsmouth and Virginia Beach. Students caught in the achievement gap are more likely to drop out of school, costing the nation $260 billion every year in increased crime, welfare and healthcare costs, and decreased life earnings. Donations today help Horizons bridge that gap right here in Hampton Roads.
"It's difficult to find a path out of poverty without a college degree, yet low-income students are six times more likely to drop out of high school," says Dick Trowbridge, Executive Director of Horizons Hampton Roads. "Horizons students build relationships with teachers and peers that make real and lasting differences in their self-confidence and the ability to reach their goals. Now in our 17th year, we are excited to have students who started Horizons in the first class of Kindergarteners graduating from college this month." 99% of Horizons students graduate from high school, and 91% go on to college.
This summer, over 400 students from about 60 public schools will attend Horizons at Norfolk Collegiate School, Portsmouth Catholic Regional School and Virginia Beach's Chesapeake Bay Academy. These independent schools generously provide their facilities every summer to host Horizons and support our community. At a cost of $2,300 per student, Horizons students experience six‐weeks of academics, arts, sports, S.T.E.M. and other programs to maintain and enhance reading and math skills while building confidence.
Demand for Horizons is strong, and the success of Horizons Giving Day depends on the support of the community. Horizons is inviting individuals, businesses, schools, churches, and civic groups to organize in support of the 2nd Annual Horizons Giving Day. Horizons encourages donors to share their contributions via social media with #HorizonsGivingDay and express why they support Horizons. All funds raised in Southeast Virginia will support the growth of Horizons Hampton Roads and stay local.
For more information on how to transform young lives in Hampton Roads, visit http://horizonshamptonroads.org/givingday/ or contact January Serda, Director of Development for Horizons Hampton Roads, at (757) 412-0249, extension 4.