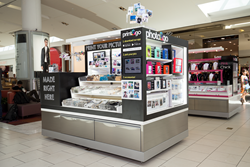 "Our goal is to make it as easy and as fast as possible to print your favorite photos. Whether in your camera roll or on Facebook and Instagram, today those photos reside on mobile devices which makes the "app only" experience natural and seamless."
Delray Beach , Florida (PRWEB) May 10, 2016
Photo & Go -- the most expansive photo-making concept to come to retail – has opened its first Photo & Go cart in the Dadeland Mall located in Miami, Florida. At the aptly named "GoCart™," customers will be able to print their photos directly from their phones and social media in minutes, and accessorize them with the latest in unique photo products as they enjoy their time shopping at the mall. This first location will be the springboard to offer "owner operators" the opportunity to bring the concept to their own hometown malls.
"Over the last few years, we have received a tremendous amount of interest in bringing our Boca Raton and Las Vegas concepts nationwide, said Warren Struhl, co-founder of Photo & Go. "We are excited and confident that this small and efficient footprint will be welcomed everywhere."
The Photo & Go GoCart™ is the first "app only" mall retail experience. At the GoCart™, customers utilize the Photo & Go app to easily upload, edit, and order their photos, a departure from the Company's previous exclusive use of desktop terminals. "Our goal is to make it as easy and as fast as possible to print your favorite photos. Whether in your camera roll or on Facebook and Instagram, today those photos reside on mobile devices which makes the "app only" experience natural and seamless," said Dov Quint, the company's other co-founder. With the app, any smartphone-carrying consumer can order at the mall, on the way to the mall or even from home.
The cart offers close to 100 products that perfectly compliment the unique, extra thick prints made at the cart. In addition, customers can order from a more expansive selection of hundreds more products at http://www.photoandgo.com and have them shipped anywhere in the world.
For more information about Photo & Go and to inquire about opening your own GoCart™, please visit http://www.photoandgo.com.
Photo & Go is part of a group of family owned and operated companies owned by TWS Partnership, LLC. TWS has been involved in over 30 businesses over the last 25 years and has had a particular impact and focus on the arts, graphics and photography industries through its involvement with PaperDirect, Successories, American Registry and Awards.com.