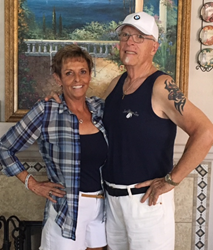 When people starting telling me about cannabis and its effect on cancer, I was really interested.
Raleigh, NC (PRWEB) May 11, 2016
The third installment of Surviving Mesothelioma's popular series on cannabis oil in the management of malignant mesothelioma delves deeper into the long history of the plant in medicine. The story, featuring Californian Andy Ashcraft, a mesothelioma survivor and cannabis oil user, is now available on the website. Click here to read it now.
Andy Ashcraft received a grim prognosis following his pleural mesothelioma diagnosis in 2010. But a healthy lifestyle, a positive attitude, and daily doses of cannabis oil appear to have turned things around for him.
"Our oncologists told me that I needed to look into hospice and I decided that I wasn't going to do that," Ashcraft's wife, Ruth, told Surviving Mesothelioma in a phone interview. "So when people starting telling me about cannabis and its effect on cancer, I was really interested."
What the Ashcrafts discovered when they researched the treatment is that marijuana and it's cannabinoid derivatives have been used in traditional medicine for centuries. A growing body of modern research also supports the use of marijuana in medicine, particularly as a part of cancer treatment.
"Because there are so few viable treatment options for mesothelioma, we know that our readers are especially interested in alternative therapies, particularly therapies like cannabis with such a long history of success," says Alex Strauss, Managing Editor of Surviving Mesothelioma. "We are excited to shine a light on the potential of cannabinoids in medical treatment and to share the Ashcraft's mesothelioma survival story."
To read Surviving Mesothelioma's new article on the history and status of medical marijuana and Andy Ashcraft's experience with it in his own mesothelioma treatment, see Mesothelioma Survivor on Cannabis Oil Following in Footsteps of Ancient Herbalists, now available on the website.
History of Marijuana as Medicine - 2900 BC - 1599 AD, ProCon.org, http://medicalmarijuana.procon.org/view.timeline.php?timelineID=000026
For nearly ten years, Surviving Mesothelioma has brought readers the most important and ground-breaking news on the causes, diagnosis and treatment of mesothelioma. The information in this article is not a substitute for professional medical advice, examination, diagnosis or treatment. You should always seek the advice of your physician or other qualified health professional before starting any new treatment or making any changes to an existing treatment. You should not delay in seeking or disregard medical advice based on information in this article. Cannabis oil is NOT FDA approved for the treatment of any cancer.