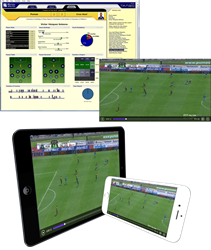 Tango Online is a fantastic resource for all our coaches and players. We take advantage of the statistics and video it delivers to help analyze and improve individual and collective performances
EMERYVILLE, CA (PRWEB) May 11, 2016
Twelve years ago Silicon Valley-based Match Analysis launched Tango Online, its second ground-breaking system that revolutionized performance analysis in soccer (football). Tango Online is Match Analysis' unique web portal to a wide array of statistical data that presents charts, timelines, rankings, and infographics fully integrated with the corresponding streaming video. With the advent of Tango Online, printed reports were replaced with 24/7 interactive access to a massive online database placing every match statistic, player and touch instantly at the fingertips of the entire coaching staff as well as the players themselves.
Revealing tendencies, strengths and weaknesses previously unavailable to help improve performance, Tango Online has become an invaluable tool to clubs. In 2015 alone, coaches and players at Match Analysis' MLS clients' accounted for over four-hundred and fifty thousand (450,000) page views in Tango Online!
This week the company rolls out Tango VIP, their new foundational technology platform for Match Analysis's extensive online presence. The redesigned backbone provides a significantly enhanced experience, delivering lighting fast speed, greater mobile compatibility, and wide ranging OS support using the latest evolving online technologies.
"Tango Online is a fantastic resource for all our coaches and players. We take advantage of the statistics and video it delivers to help analyze and improve individual and collective performances," said Chris Leitch, Technical Director at the San Jose Earthquakes. "The improvements Match Analysis made to Tango Online are tremendous. The increased speed and ability to access Tango Online using smartphones makes it an even better experience than we'd become accustomed to."
Match Analysis's latest development initiative involves several significant updates and features including:

Support for all major browser and computer combinations including iPhone, iPad, Android and Windows
New video player with upgraded functionality including greater playback control with the ability to rapidly move to any point within a video, fast forward, rewind, skip or jump from clip to clip and view in slow-mo, standard or high speed
Higher performance and faster page loads creating a more dynamic and interactive experience
Cloud based Amazon Web Services (AWS) platform upgrade provides high volume, high availability site hosting and infinite scale
Cloud based video built on Microsoft Azure's state-of-the-art video delivery platform offers infinite scalability and enhanced reliability
HLS based video streaming enables video playback on all modern devices with dynamic video packaging allowing support for current transition to DASH based video streaming
Adaptive streaming supports auto-adjusting bandwidth to allow fast start, minimal buffering, video quality adjustment to maintain highest possible resolution, and more robust performance
High performance statistical caching for vastly improved page loads and interactivity
Re-encoded video library for recent years allowing playback in new player for thousands of existing matches
Updated Tango ToGo backend for higher performance and reliability video generation
Internationalization support with user language preferences
Match Analysis has consistently developed and introduced cutting edge products since Mark Brunkhart launched the company in 2000.
"Our philosophy has always been to provide game changing tools that put our clients at the forefront of technology to give them a competitive edge," said Mark Brunkhart, President of Match Analysis. "Tango VIP is the foundation for the next 10 years of growth. We have a very talented team, and we have placed ourselves in a unique position to capitalize on our position in the marketplace and the exponential growth of this industry."
Tango Online's VIP upgrade is the latest in a long line of advancements in performance analysis tools that the company's Global Development Team has introduced to the sport which includes:
Mambo Studio (2001): Match Analysis' state-of-the-art and highly popular video analysis tool.
Tango ToGo (2008): Direct to mobile communication tool used to send video clips and comments instantly to players
Tango Live (2010): Real time, fully custom dashboard reporting and graphing every player, every pass, and every touch for in-game analysis
K2 Panoramic Video (2011): Corner to corner stitched video from portable or in-stadium installation
Player Tracking, Fitness Reporting, and TrueView Visualizations (2011): Innovative integration of tracking data directly into K2 Panoramic Video allowing wide ranging analytical and visual functionality
K2+ Panoramic Video Camera System (2013): Upgrade to the original K2 with higher resolution, greater portability, easier installation, and robust remote operation. System adopted immediately in every MLS and Liga MX stadium
With a completely new technology platform Tango VIP delivers faster page loads, better video interaction and increased accessibility to provide coaching staff and players with improved and more convenient access to match data and video via Tango Online.
"The new features and improvements with Tango VIP have made Tango Online much faster and easier to use, which in the midst of a busy schedule saves us valuable time," said Ashley Wallace, Head of Performance Analysis at Sporting Kansas City. "Tango Online has and will continue to be an invaluable tool for both coaches and players in maximizing performance."
"Match Analysis has a long history of innovation. Every couple of years, the company adds a new revolutionary tool that changes how coaches and players see, teach, and understand the sport," said Stephen Hamilton, Match Analysis's Director of Marketing and Business Development. "Tango VIP is a strategic asset that positions Match Analysis for an entire new generation of online tools. The next few years will be very exciting for Match Analysis and our clients."
For further information on Tango VIP and the full Match Analysis product suite contact:
Stephen Hamilton
+1-213-321-9554
stephen(at)matchanalysis(dot)com
Media enquiries contact:
Matt Murray
+44 (0) 7712 647962
matt(at)matchanalysis(dot)com
About Match Analysis
Match Analysis is the leading pioneer in high performance analytical tools for soccer (football). Over the past decade, Match Analysis has worked with almost every top club in North America and top media outlets including the New York Times World Cup coverage. In 2013, Match Analysis's K2 Panoramic Video Camera System was implemented in every stadium in Major League Soccer and Liga MX.
Current Match Analysis clients include all 18 Liga MX clubs in Mexico, 17 MLS clubs, the Mexican national team, and a wide array of college and amateur sides. Match Analysis offers a comprehensive suite of tools and services including video indexing and archiving, statistical analysis, live data collection, player tracking, fitness reports and performance analysis.