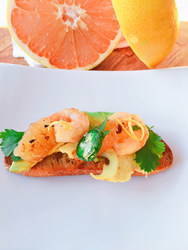 "Bringing people and communities together through food is my passion and what I love to do. Thanks to everyone who participated this year. We are already in the planning stages for another exciting competition next year." ~ Executive Chef Kurtis Jantz
Sunny Isles Beach, Florida (PRWEB) May 11, 2016
This year's competition was extremely close, and while Veronica Callaghan's recipe took the top spot in the contest, there are 2 finalist recipes that also left quite a mark on guests' tastebuds and deserve recognition for their outstanding recipe submissions:
The 2 finalists recipes in the Heirloom Recipes with a Citrus Twist recipe contest are:
Main Dish Category: Vietnamese Citrus Chicken Divan Stir-Fry, submitted by Brenda Watts, Gaffney, SC
Dessert Category: Ciambella Amaretto Citrus Coffee Cake submitted by Lorraine Fina Stevenski, Land O Lakes, FL
In order to be eligible for the competition, non-professional chefs and bakers were asked to share their favorite original family recipe and then asked to get creative by adding a citrus ingredient, giving it a unique citrus "twist". Entrants were also asked to share a special memory or family tradition associated with their recipe. Trump Miami's Executive Chef, Kurtis Jantz, and his culinary team scoured through volumes of recipes received from across the country and selected the top three as finalists. These recipes were featured in the resorts' ever-popular and well-attended annual Mother's Day brunch held on Sunday, May 9th, where attendees voted on their favorite recipe based on taste, creativity and visual appeal.
"The number of incredible entries we received is truly a testament to how versatile citrus is and how creative our guests and fans are", said Jantz. "Bringing people and communities together through food is my passion and what I love to do. Thanks to everyone who participated this year. We are already in the planning stages for another exciting competition next year."
When asked about a special family memory for her winning recipe, Veronica Callaghan had this sentiment to share; "Back in the early '80's, my mother would love to entertain. Her go-to appetizer recipe was some kind of shrimp toast. I remember her recipe had an Asian-fried flair, but I changed it up to give it a more contemporary, citrus-fresh twist."
Here's Veronica Callaghan's winning Charred Grapefruit and Shrimp Avocado Toasts with Candied Jalapenos recipe. Try it out in your own kitchen. It's the perfect appetizer for a summertime get-together.
Ingredients:
12 slices Italian or ciabatta bread cooking spray (olive oil)
Salt
Pepper
2 large grapefruits
1 tablespoon avocado oil (or olive oil)
24 medium sized shrimp, peeled, cleaned and tails removed
3 scallions, very thinly sliced (white and green parts)
1 tablespoon finely chopped fresh cilantro, plus additional whole leaves for garnish
1 avocado, cut into 24 thin slices
12 candied jalapenos (recipe follows)
Flaked sea salt
Directions:
Preheat oven to 400 degrees. Arrange the bread slices in a single layer on baking sheet. Spray both sides of each bread slice with cooking spray. Season with salt and pepper. Bake bread slices in oven until toasted and edges are golden brown. Remove the zest from one of the grapefruits and reserve. Using a sharp knife carefully peel away the skin and pith of the grapefruits and slice into fruit to release sections. Squeeze the juice from the remaining membranes into small bowl and reserve. Heat the oil over medium high heat in a 12 inch skillet until very hot. Add the grapefruit sections to the skillet and cook for a minute or until browned then carefully turn over and cook for a few more seconds. Remove the sections from the skillet and transfer to a plate. Add the reserved juice to the skillet and heat; stir in the shrimp and cook until opaque and cooked through. Stir the scallions and cilantro in with the shrimp. Arrange two slices of avocado on each toast. Top the avocado with 2 pieces of shrimp and 2 pieces of grapefruit, alternating. Garnish each with fresh cilantro leaves, the reserved grapefruit zest and a candied jalapeno then finish by sprinkling each with a pinch of the flaked sea salt. Makes 12 appetizers
Candied Jalapenos
Ingredients:
10 jalapenos, cut into 1/4 inch thick rings
1/2 cup sugar, plus additional for rolling
1/4 cup light corn syrup
Directions: Cut jalapenos into 12 slices. Mix together the sugar and the corn syrup in a skillet and bring to a boil over medium high heat. When it has boiled for about 4-5 minutes remove from the heat and stir in the jalapenos. Using a skewer, remove from the hot liquid and transfer to a parchment lined baking sheet. Bake peppers in a 350 degree oven for 10 minutes. Roll jalapenos in sugar while still hot then return to pan to cool.
As the Grand Prize Winner, Veronica Callaghan will receive prizes including:

Complimentary Three night stay for 2 guests, 2 Bedroom Oceanfront Suite at Trump International Beach Resort
Daily breakfast for two in Neomi's Grill
Two, Fifty minute spa treatments (one treatment per person)
Up to $600.00 Travel credit
The Finalists will receive:

One Omega J8006 Nutrition Center Juicer
One Embroidered Trump International Beach Resort Culinary Apron
One Signature Chef recipe from Executive Chef Kurtis Jantz
Visit http://www.trumpmiami.com for the additional 2 finalists' winning recipes and stay tuned for Trump Miami's lineup of exciting culinary events and activities, (including oceanfront happy hours, live music on the beach, family-inspired games and casual dinners)…it all begins later this month and runs throughout the summer.