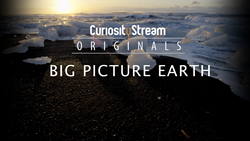 "The inspiration for Big Picture Earth has a few sources. Mainly, I really love to wander freely, with time to look and to listen." - Filmmaker, David Conover
Silver Spring, MD (PRWEB) May 11, 2016
CuriosityStream is taking viewers into the natural world with the premiere of original production the 20-episode BIG PICTURE EARTH series that will entertain and educate viewers with brilliantly sharp 4K footage.
CuriosityStream is the premiere online destination for ad-free, on-demand nonfiction documentaries from around the world. Starting today, the global streaming service introduces 50 original 4K Ultra HD titles to the streaming service to be available soon.
BIG PICTURE EARTH is one of CuriosityStream's first original 4K productions, crafted by David Conover, the filmmaker behind Discovery HD's hit series, Sunrise Earth. BIG PICTURE EARTH delights viewers with a journey through the most amazing natural landscapes and cultural achievements on the planet. Each episode delivers an ethereal travel experience in one of twenty destinations:
U.S. Locations
1. Canyons of Time (Gateway, Colorado)
2. Canyons of the Ancient Ones (Colorado)
3. Methuselah (Ancient Bristlecone Forest, California)
4. The Terminal Basin (Mono Lake, California)
5. The Eternal Alewife Run (Damariscotta Mills, Maine)
6. The Great Mountain Katahdin (Baxter State Park, Maine)
7. The Black Water (Okefenokee, Georgia)
8. Dungeness and the 17 Mile Beach (Cumberland Island, Georgia)
9. Curiosities of Central Park (New York City, New York)
10. Haunted New York (North Brother Island, New York City)
International Locations
1. The Acropolis (Athens, Greece)
2. Oracle of Delphi (Temple of Apollo, Greece)
3. The Coliseum (Rome, Italy)
4. The Canals of Venice (Venice, Italy)
5. Stonehenge (Wiltshire, England)
6. Newgrange (County Meath, Ireland)
7. Skafta Ice Cave (Skaftafell, Iceland)
8. Jokulsarion Lagoon (Iceland)
9. The Pyramids (Giza, Egypt)
10. Rose City (Petra, Jordan)
"The inspiration for Big Picture Earth has a few sources. Mainly, I really love to wander freely, with time to look and to listen," stated filmmaker David Conover. "There have been many television series which visit the historically significant sites that we also visit in Big Picture Earth. But there are concrete ways our series is different from everything else. For each episode, the soundtrack is the natural sounds of the ages - wind, water, life - with an option for music. There's no narration. That's different. We shot it in 4K, to maximize immersive potential, and it is also available to the viewer in 4K. That's different. Lastly, the camera never stops moving, just like life."
"CuriosityStream's 4K streaming debuts this month with over 50 titles streaming and and fifty more in production, which will be available soon, ad-free and on-demand, worldwide," said Elizabeth Hendricks North, President & CEO of CuriosityStream. "We're incredibly proud of the tremendous work of legendary filmmakers in delivering brand-defining documentaries for CuriosityStream. It's a milestone for our team to share the Earth's wonders in 4K with a global community of curious minds."
CuriosityStream offers worldwide streaming subscriber access at affordable monthly rates for SD ($2.99), HD ($5.99) and now 4K ($11.99). Discounted annual pricing plans are also available. First 30 days are free. Preview CuriosityStream's documentary library by visiting app.curiositystream.com. 4K streaming is available on Amazon FireTV and Roku 4 devices.
Created by the founder of the Discovery Channel, CuriosityStream is the world's first ad-free, on-demand streaming service for quality programs that educate, inspire and entertain. The SVOD service delivers an extensive library of nearly 1,500 high-quality documentaries and series worldwide, available whenever and wherever you want to watch on multiple devices. Watch CuriosityStream on Amazon FireTV, Roku, Amazon Prime, Chromecast as well as Android and iOS devices. Learn more at http://www.curiositystream.com and join the community of the curious on Twitter @CuriosityStream.
Contact:
press(at)curiositystream(dot)com
301-755-2050