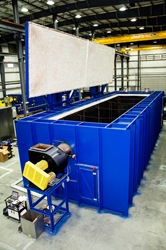 When this customer came to Wisconsin Oven, based on their product we determined that the top load configuration would be the most efficient and effective solution to their processing needs.
East Troy, WI (PRWEB) May 11, 2016
Wisconsin Oven Corporation announced the shipment of a natural gas fired top load oven. This industrial oven will be used for stress relieving tanks used for storage and the trucking industry. The top load oven was designed with the capacity to heat 27,000 pounds of steel from 105°F to 800°F within 90 minutes.
The maximum temperature rating is 1,200°F and the work chamber is 50'0"W x 13'0"L x 11'0"H. The customer requested a temperature uniformity of ± 10°F at 1,175°F. Documentation of this uniformity was provided by a temperature survey of a twenty-five (25) point profile test conducted in an empty oven chamber under static operating conditions.
The top load oven was designed with two (2) hydraulic operated hinged lift door on the top of the oven which includes; counterweights, heavy gauge exterior, a pushbutton station, and door limit switches. The oven also has reinforced integral insulated floors that are 8" thick. The walls and ceiling feature "CAN" style construction. The inner shell and ductwork are fabricated with 18 gauge 304 stainless steel.
Unique features of this industrial oven include:

Four (4) 42,000 CFM @ 50 HP plug mounted blowers
18,000 CFM @ 10 HP exhaust blower
Airflow safety switch
Two (2) industrial air heat burners rated at 5,000,000 BTU per hour each
Eurotherm 3504 temperature controller with two loops of control
Eurotherm 6100A paperless digital recorder
Flame detector and flame relay with integral purge time
This industrial oven was fully factory tested and adjusted prior to shipment to help reduce installation and start-up times. A 150-point Quality Assurance check list was completed to ensure the equipment met all Wisconsin Oven quality standards. The top load oven is backed by Wisconsin Oven's Exclusive and Unprecedented 3-Year WOW™ warranty. This warranty covers all materials for all components (less wear items).