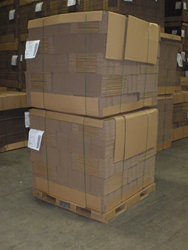 Minneapolis, MN (PRWEB) May 11, 2016
Premium Waters, Inc., producer of brands Water Joe, Chippewa Spring Water, Glacier Clear, Glenwood Drinking Water, Kandiyohi Premium Water and Nature's Crystal, made the switch to Lifdek corrugated paper pallets to reduce pallet and shipping costs. According to Julie Fox, Supply Chain Manager, "Our box supplier, Green Bay Packaging, is now able to produce and supply the corrugated pallets as well as the boxes being shipped. The corrugated paper pallets are also produced in the exact size of our unassembled boxes at 42 1/2 in x 42 1/2 in. This custom size reduces the pallet footprint by six inches, which allows us to fit four more pallets of boxes per truckload, reducing shipping costs." Premium Waters' reduction in box shipments saves fuel consumption further bolstering sustainability efforts. In addition, the Company now recycles the corrugated pallets after use, generating recycling revenue.
Green Bay Packaging's plant located in Wausau, WI, produces the Lifdek corrugated pallets with a rotary die, cutting two Lifdek pallet blanks that fold together in under a minute without glue or staples. Besides the increased production and revenue, Green Bay Packaging is also benefiting from increased plant efficiencies. The Lifdek pallets are produced on-site and stored unassembled in Green Bay's warehouses flat, eliminating inbound pallet receiving labor, saving 80% in pallet storage space, and further cubing out their trailers with product, reducing the number of shipments. The pallets are assembled on-site in thirty seconds on a small pallet assembly machine. According to John Laabs, Director of Sales, "We believe that the corrugated pallets are a viable cost savings solution and sustainable alternative to hardwood pallets that has proven to be a win-win solution for us and our customers."
About Premium Waters, Inc.
Premium Waters, Inc. is a leader in providing the purest, highest quality bottled water products and was the first large bottled water company to certify locations through the (SQF) 2000 Level 3. They have fifteen facilities across the US.
For further information, visit http://www.lifdek.com