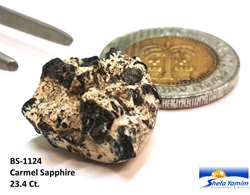 Shefa Yamim's consultant geochemist Mark Fedikow of Mount Morgan Resources in Winnipeg, Canada, believes its chances for success are as high as 20-30 percent. 'There is no reason why you can't connect faith with economics here,' Fedikow said.
New York, NY (PRWEB) May 18, 2016
More evidence that The Holy Land is not only rich in even more than History and Technology -- This Ruby sample came from the Shefa Yamim's multi-commodity alluvial placer (Kishon Mid Reach), located near Mount Carmel, Israel, part of the current main focus of the company's exploration activity.
In recent reports, the Company stated that the placer (known as The DMC suite: Diamond (D), Natural Moissanite (M) and the Corundum gem varieties (C) of Sapphire, Ruby, and the "Carmel Sapphire") is currently being developed; Carmel Sapphire is a new gemstone discovered by Shefa Yamim and found only in Israel hosts an assemblage of various high-value gem minerals together in basal gravels.
On February 2016, following examination of mineral samples of corundum stones sent to him by Shefa Yamim, Professor of Geology William Griffin of Australia's Macquarie University told the J-wire: "The diamonds that Shefa Yamim has found in the alluvial deposits of course can be cut, but diamond is quite rare in the deposits, compared to the sapphire/ruby production. On the present statistics, diamonds will make up a relatively small part of the total carat weight that might be produced once mining starts."
The Company is currently in the process of negotiations to conduct an IPO, and list its shares (Shefa Yamim (ATM), on the AIM of the London Stock Exchange.
The Company ticker symbol on the TASE (Tel Aviv Stock Exchange) is: 'SEFA'
U.S. investors find more info related to this opportunity through standard trade channels such as Charles Schwab or Merrill Edge.
Glossary For Exploration Activities - link
About Shefa Yamim (ATM):
At its inception, Shefa Yamim acquired an exclusive permit from Israel's official state authorities (the Supervisor of Mines at the Ministry of National Infrastructure). To date, Israel has issued consecutive permits to Shefa Yamim, expanding the company's research, exploration and prospecting operations.
Shefa Yamim's explorations have produced remarkable results across the Carmel Mountain Range, between the Zevulun and Israel Valleys, along the Kishon River, and upon the plateaus of Ramot Menashe. In this unexpected geological setting, Company geologists have unearthed diamonds, and precious gemstones displaying anew scientific discovery
Shefa Yamim is now assessing the commercial viability of its discoveries - a timely development, as experts are predicting the dawn of a "diamond decade", an upcoming surge in gemstone values, driven by an increase in global demand.
___________________________________________________________
For more information regarding Shefa Yamim please contact:
Eyal Tal from Ronnen Tzur PR
Address: Sokolov St 34, Ramat Gan, 52571, Israel
Phone: +972-52-621-4502 | +972-54-248-7497