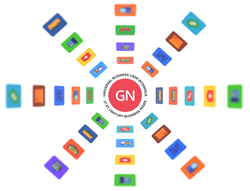 Houston, TX (PRWEB) May 19, 2016
Just like other non-profit organizations, the PCOS Foundation has the challenge of growing its support base and raising money for its cause. Having a health problem as a cause creates an additional issue with many potential followers reluctant to join on a social media platform because of the privacy concerns.
When Lisa Benjamini, President of PCOS Foundation, first learned about General Number (GN) and weighed the cost and development time required to create a custom mobile application, the decision to embrace a beta-tester opportunity with General Number LLC came easy.
"The choice was obvious. Rather than waiting for at least a month and investing almost $3,000 in the development of our own mobile app, it took my administrative assistant only five minutes to create our GN. It does everything we would want to have in our mobile app and has some added functionality that is only available through GN. For example, our supporters can now make a donation pledge in under 10 seconds," says Benjamini. "Our GN is a snapshot of all of the interactive content that our foundation has, including all of our social media links. We also like the fact that GN is not just app, but a very easy way to connect to the foundation not only from the web, but also from our hand-outs, radio or just people talking. GN is very private and requires no registration, which means that people who would not join us on a social network have an option to follow us incognito and our support base will grow. We are excited to be early GN adopters, which allowed us to secure a short and relevant GN, which gives people who want to connect to our foundation added convenience."
The PCOS Foundation is headquartered in Houston, TX. Its mission is to spread awareness through public and professional education programs in order to improve diagnosis and decrease or eliminate the lifetime risks associated with PCOS (Polycystic Ovarian Syndrome). Through these efforts the PCOS Foundation hopes to establish programs that will help women and adolescents affected with PCOS obtain treatment through medical lifestyle management.
Please join us on GN: 2933 or PCOS.
Hyperlink the GN:2933 or PCOS to https://ww2.generalnumber.com/#/gn/pcos