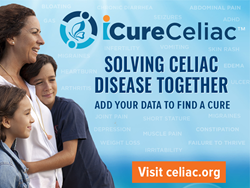 Woodland Hills, CA (PRWEB) May 12, 2016
In keeping with our mission to advance research by leveraging technology, Celiac Disease Foundation (CDF) is pleased to announce the February launch of iCureCeliac™, a patient-powered research network (PPRN). At iCureCeliac™, people living with celiac disease and gluten sensitivity can help facilitate new treatments and a cure by safely and securely contributing their health information online. Data collected through iCureCeliac™ will be made available to the FDA and the research community. Watch the iCureCeliac video here.
By aggregating data from the profiles of thousands of people with celiac disease and other gluten-related disorders, iCureCeliac™ will provide much-needed insight into how celiac disease and gluten sensitivity impacts those affected. Patient registries for other chronic diseases have been credited with improving treatment by as much as 50% through helping researchers and clinicians discover critical patterns in treatments and outcomes.
"CDF is a strong proponent of patient-centered research," says Celiac Disease Foundation CEO, Marilyn G. Geller. "Patients are the experts on their own disease. iCureCeliac™ allows them to share that expertise and shape research priorities into diagnosis strategies, new treatments, and a cure. We can also effect change at the FDA regarding stronger gluten-free labeling rules for all products containing gluten. We are proud to launch this valuable tool as a shared resource for the celiac disease community."
iCureCeliac™ is an initiative of the Community Engaged Network for All (CENA), a Patient Centered Outcomes Research Institute (PCORI)-funded project, led by the Genetic Alliance, of which CDF is a member. iCureCeliac™ was developed in collaboration with the University of California, San Francisco (UCSF), the University of California, Davis (UCD), the University of California, Los Angeles (UCLA), the CDF Medical Advisory Board and scientific and medical communities, Private Access, and ten other disease advocacy organizations that were selected by Genetic Alliance from more than 100 applicants.
"CDF is taking a bold step to accelerate the quest to alleviate the suffering of individuals and families affected by celiac disease," says Sharon F. Terry, President and CEO of Genetic Alliance. "Giving individuals the tools they need to share their health information, experience, and expertise puts the real experts at the center. We are delighted to have them as partners in our Community Engaged Network for All."
The power to shape new treatments and a cure comes from all of us sharing our experiences. The success of iCureCeliac™ relies on the contributions of our entire community. Watch the iCureCeliac video here.
Data and insights contributed by iCureCeliac™ participants under informed consent are available to researchers investigating topics important to people with celiac disease. Research topics can include treatments and outcomes, lifestyle and activities, quality of life, healthcare, biomarkers of celiac disease, and many others.
CDF welcomes researchers in the United States and worldwide to learn more about conducting research with iCureCeliac™ and to contact us to explore research studies and collaborations. CDF can:

Provide access to our database of information previously collected from iCureCeliac™ participants
Collect new data from iCureCeliac™ participants, either through the iCureCeliac™ web portal or other mechanisms, on a cross-sectional or longitudinal basis
Help find participants for your studies or other research activities
Conduct surveys of iCureCeliac™ participants to help you understand the community's needs and interests to enhance the impact and feasibility of your research
For more information, contact icureceliac(at)celiac(dot)org.
About Celiac Disease
Celiac disease is a genetic autoimmune disorder in which the ingestion of gluten, a protein found in wheat, rye and barley, leads to serious damage in the small intestine. It is estimated to affect 1 in 100 people worldwide. Two and one-half million Americans are undiagnosed and are at risk for long-term health complications. Currently, the only treatment for celiac disease is lifelong adherence to a strict gluten-free diet.
About Celiac Disease Foundation
Celiac Disease Foundation (CDF) was established as a 501(c)(3) non-profit organization in 1990 to improve the quality of life for all individuals impacted by celiac disease and other gluten-related disorders. Affecting 1% of the world's population and with a prevalence doubling every 15 years, celiac disease is both a serious genetic autoimmune disorder and a growing public health challenge. Despite a simple blood screening test, only one in six celiac disease sufferers is diagnosed, leaving millions at risk for long-term health complications including Type 1 diabetes, thyroid, liver and heart disease, and intestinal cancers. CDF leads the fight to increase the rate of diagnosis, to improve treatments, and to find a cure. Learn more about Celiac Disease Foundation at celiac.org.